(Last Updated On: September 11, 2023)
Have you ever experienced the power of gratitude? We show our gratitude to someone who has helped us or given us a gift. Many of us express gratitude by saying "Thank You!" Do you think saying words is gratitude? No. Gratitude is not just an action but it is also a positive emotion. 
Power Of Gratitude – How Gratitude Can Change Your Life?
What is Gratitude?
According to the Merriam-Webster Dictionary, gratitude is simply "the state of being grateful."
Gratitude is a feeling of appreciation felt by and/or a similar positive response shown by the recipient of kindness, gifts, help, favours, or other types of generosity, towards the giver of such gifts.
Related posts
Power of gratitude? – Robert Emmons
Robert Emmons, perhaps the world's leading scientific expert on gratitude, argues that gratitude has two key components, which he describes in a Greater Good essay, "Why Gratitude Is Good."
"First," he writes, "it's an affirmation of goodness. We affirm that there are good things in the world, gifts and benefits we've received."
In the second part of gratitude, he explains, "we recognize that the sources of this goodness are outside of ourselves. … We acknowledge that other people—or even higher powers, if you're of a spiritual mindset—gave us many gifts, big and small, to help us achieve the goodness in our lives."
Robert Emmons, Professor of Psychology, UC Davis discusses why practising gratitude has a transformative effect on our social and emotional well-being.
Benefits and power of gratitude
Gratitude is the key to a happy and healthy life.
Helps to grow healthy and strong relationships with everyone around us.
Provides us with the richness of true living and understanding.
Gratitude indeed pumps in the energy to deal with difficult times.
Even with the smallest thing gratitude brings a vital shift.
Helps to see the possibilities in every situation.
Gratitude attracts all wellness.
Reduces materialism.
Makes you self-centred.
Makes more optimistic.
Increases spiritualism.
Increases self-esteem
Gratitude can create and boost social networks.
Help individuals work towards goals and challenges.
Helps to have stronger coping skills for life's hardships.
When you express gratitude to a person, it compels that person a desire to reciprocate. Hence this is a positive chain reaction to encourage in family, workplace, and society.
Find a few things you must remember and practice consciously to make your life successful.
Take a moment to do this every night
Before going to sleep, close your eyes for a few seconds and think of the positive things that happened during the day. Say gratitude in the mind to the Almighty for the wonderful day and also for everything that happened in the day.
After this, forgive everyone who hurt you and also self-forgive for the mistakes you made. Forgiveness and self-forgiveness will keep happiness in mind. That will give you a peaceful mind and better sleep at night.
Before going to bed have a discussion with your children. Ask them to think about something they are grateful for themselves.
Share with them what you are grateful for the day happening. This helps the children understand the importance of the practice.
Posts related to parenting
Power of gratitude – Poem – Subi Nanthivarman
Lyrics
Gratitude for the crystal clear sunlight
for the deep blue sky and the birds in flight.
Gratitude for the morning dew
for the gentle breeze and rainbow's hue
Gratitude for flowers and trees
for shrubs, parks and humming bees
Gratitude for water so turquoise blue
for white beaches that are shady too
Gratitude for mountains tall
for meadows and rushing waterfalls
Gratitude for the changing seasons
for health, wealth and sound reasons
Gratitude for the near and dear
for love, warmth and the lack of fear
Gratitude for help and kindness
for laughter, mates and the lack of sadness
Gratitude for just being alive
and the chance to mature and to thrive
Gratitude in the morning and in the night
Above all, for finding the path that is right.
This poem was originally posted by Subi Nanthivarman on Linkedin and published here with permission from the author.
Subi would like to know what role gratitude plays in your life. Give your reply in the comment box below.
Gratitude is humility par excellence.
Even in the midst of the greatest difficulties, you can always find things for which you are truly grateful.
Read Brian Tracy's inspiring story and rules for success
How Gratitude Can Change Your Life – Jay Shetty
In this video, Jay Shetty, one of the famous motivational speakers, narrates his own real-life experience about gratitude.
Jay Shetty's Ultimate Success Advice for Students And Young People
The list for paying gratitude
Are you wondering to whom should pay gratitude? The list for paying gratitude would start from the Almighty God.
Without your request, the Almighty gave you this wonderful world, loving parents, family, good health and many more countless gifts.
Parents raise you with unconditional love and affection.
Teachers who gave you knowledge
Friends who gave the company and shaped you
The employer for giving you a good job
Colleagues who mentored you
Seniors who inspired you
This list can go on. Add more from your mind.
Do you think gratitude is meant only for gifts and help? Not at all.
You should be grateful for the paid things also. You should be grateful to the builders and workers who built your beautiful house, someone who worked to solve your problems, the Doctor and his team for taking care of your health problems and the list goes on.
Your gratitude will make them happy and encourage them to do better in the future.
Power of gratitude – Infographics
Practice gratitude! Although it's nice to count your blessings, being thankful could have tremendous benefits on your quality of life.
Being constantly mindful of all the things you have, simple pleasures, acknowledging everything that you receive and recognising what you are grateful for can boost your well-being.
Conclusion
Try practising some gratitude. You will be surprised by the benefits it brings you. To be thankful for the smallest things even in tough situations is very powerful. When you put thanksgiving on your lips it is hard to become downhearted. Giving yourself the gift of five minutes of gratitude can work wonders for your health. Realise the power of gratitude.
What is your thought on gratitude?
Do you show gratitude to everyone?
Let me know your thoughts and experiences with this valuable emotion.
Thanks for sharing the post on your network to help others understand the importance of gratitude for a successful life.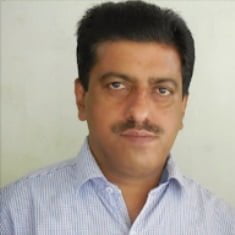 Mathukutty P. V. is the founder of Simply Life Tips. He is a Blogger, Content Writer, Influencer, and YouTuber. He is passionate about learning new skills. He is the Director of PokketCFO.
He lives with the notion of "SIMPLE LIVING, CREATIVE THINKING". He Believes – "Sharing is caring." and "Learning never ends."