(Last Updated On: January 5, 2023)
Do you know you can make natural homemade hair growth shampoos for healthy hair and also to control hair fall and dandruff? Most people do not know very often the condition of general health and the state of the hair depend on each other. It depends on how they handle these things. Some types of hair cannot tolerate the harsh chemicals used in products from the market to provide your hair with tender loving care. Continue reading and watching the video to learn about natural homemade hair growth shampoos for solving dandruff, and hair fall and also for healthy strong hair.
Benefits Of Natural Homemade Hair Growth Shampoos
Today, many beauty and hair products are available in the market with different brand names and success stories. Most people buy and use these products after watching attractive advertisements anchored by celebrities. These anchors might not have used these products even once in their life. They are doing these promotions as part of their work.
Today, it is very common that many people to use these products, including hair shampoo on their hair to keep it clean, and also for hair growth. But chemicals used in these products are not good for many types of hair.
In earlier days, people were using plant leaves and other natural ways for shampooing their hair. They were also using natural oils like coconut oil, mustard oil, etc. Even today, some people are using these natural oils and natural methods, but most are using ready-made products available in the market.
If you are looking for natural homemade hair growth shampoos, that won't take a toll on your hair or cost must, then this brief article is for you. After trying these, you may venture away from commercially made shampoos containing high chemicals that are not good for your hair.
Is homemade shampoo good for hair?
Kindly note that this article does not guarantee the effectiveness of natural homemade hair growth shampoos. We can't truly know whether it's safer or better for your hair than store-bought shampoo. But it is a fact that even in the present world, many people are using these types of homemade products.
Read Hair Care Tips For Faster Hair Growth And Healthy Strong Hair
However, if you are looking for alternative ways to keep your scalp and hair clean, you can learn about making your own shampoo from scratch.
How can I make hair shampoo at home?
Here are 3 homemade hair growth shampoos that are natural and would help in taking care of your hair. These shampoos are very easy to prepare and can be used multiple times a week.
Amla and shikakai – Natural homemade hair growth shampoos
Amla or Gooseberry contains antioxidants which help to repair damaged hair and cells. It also helps in preventing hair loss. Shikakai has vitamin C which is beneficial for your hair. It also strengthens and conditions your hair.
Preparation
Amla and Shikakai come in two forms: dried fruits or powdered form.
Soak six to seven pieces of shikakai and a few amla pods in water overnight. Heat the mixture in the morning and turn the heat off just when it begins to boil. Allow the mixture to cool and blend it. Strain the mixture. And here is your shampoo ready. Use this as a shampoo.
Reetha (Soap Nut) – Natural homemade hair growth shampoos
Reetha is also called soap nut. Reetha contains saponin a natural cleansing agent. If used as a shampoo it thoroughly cleans your scalp and air and also has a mild refreshing scent. It is filled with iron and has antioxidants which play an important role in hair growth. It suits all hair types and prevents split ends. It also stops hair fall and dandruff.
Preparation
Tie a bundle of three to four reetha (soap nuts) in a muslin cloth. Keep this in a pan with water and bring it to a boil. Reduce heat and simmer for 10 minutes. Add half a cup of water and simmer for more 10 minutes. Remove from heat and allow it to cool. Squeeze the bundle of soap nuts until the Soapy Suds come out. Rinse the bundle with little water and squeeze again.
Massage your soapy solution onto your scalp and hair. Let it sit for five minutes and then rinse well. This is a good shampoo and a body wash for those who suffer from eczema and psoriasis.
Rice water – Natural homemade hair growth shampoos
The third natural hair cleanser is simply rice water. Rice water has been used as a hair treatment for centuries by women who are in the Far Eastern countries. Rice water is the starchy water that remains after soaking or cooking rice. This contains mineral vitamin E and antioxidants.
Preparation
Soaking is the quickest way to make rice water. Take one cup of uncooked rice and after rinsing it soak it in 2 cups of water. Let it soak for a few hours or overnight. Strain the rice water and massage it into your scalp and hair. And leave it for 30 minutes. Rinse thoroughly with water.
Another way to make rice water is by boiling the rice. Take 1 cup of rice and boil it with 3 cups of water. After the rice has cooked strain the leftover water and then allow it to cool. Massage it into your scalp and hair and leave it for 30 minutes. Then rinse with water.
Rice water can also be used as a hair rinse. It can be used either before shampooing or after shampooing.
With the natural shampoos mentioned above, just remember to rinse your hair thoroughly well after applying rice water. All these shampoos can be easily made fresh as and when required by a person. If you are concerned about your hair, you must also be mindful of your lifestyle. Eat a balanced diet and do not skip any meal because fasting deprives the body of essential nutrients and leads to poor quality of hair.
Read What To Eat For Strong Healthy Hair?
Learn and practice yoga asanas to improve blood circulation to your head region. Meditation and pranayama help to keep your mind and body healthy and in balance. Take charge of yourself, take care of yourself and even your hair.
3 Natural Homemade Hair Growth Shampoos
Get the natural protection of these homemade shampoos for your hair.
Hope you liked the expert advice from Dr Hansaji Yogendra, The Yoga Institute
Conclusion
The above are a few natural homemade hair growth shampoos. After experiencing them first-hand, and if you feel better, then share these methods with friends and family. If you find these helpful, do share your comments.
Thank you for your visit.
Don't forget to share it.
Leave your thoughts in the comment box below.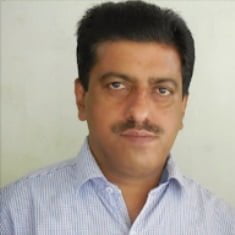 Mathukutty P. V. is the founder of Simply Life Tips. He is a Blogger, Content Writer, Influencer, and YouTuber. He is passionate about learning new skills. He is the Director of PokketCFO.
He lives with the notion of "SIMPLE LIVING, CREATIVE THINKING". He Believes – "Sharing is caring." and "Learning never ends."