(Last Updated On: September 5, 2023)
In the whirlwind of our daily lives, it's all too easy to overlook the pursuit of inner joy, the cornerstone of our well-being. How often do we set aside time to nurture our inner happiness, without feeling the weight of guilt or the need to justify it? Many of us have been conditioned to believe that living for ourselves is a selfish act and that our happiness should be primarily reserved for others. But this perception begs a crucial question: Is it possible to truly live for others if we don't first learn to live for ourselves?
Cultivating Inner Joy
How frequently do you set aside moments to uncover your inner joy and embrace self-indulgence? How often do you pursue your own happiness while ensuring it doesn't cause harm to anyone, including yourself? Society has often conditioned us to believe that a substantial portion of our joy should be dedicated to others and that putting our happiness first is a selfish act. But it's worth pondering whether this conventional wisdom truly serves us well.
Living exclusively for the happiness of others can sometimes leave us feeling unfulfilled and disconnected from our own desires. Striking a balance between self-care and caring for others is essential, and we must recognize that nurturing our own happiness is not an act of selfishness but rather a fundamental need.
Rediscovering Personal Joys
Think back to your school days and the friendships you cherished. How many of those friendships have you maintained? When was the last time you reached out to an old friend or spent time reminiscing with schoolmates? Have you ever sat alone, peacefully listening to your favourite song, or embarked on a solo trip to a place that once brought you joy?
It's easy to lose touch with our personal joys while striving to be exemplary family members. Your family undoubtedly brings you happiness and peace, but if you've ever felt a sense of emptiness despite everything going well, it's a sign that you haven't fully embraced your personal joys.
Balancing Personal Happiness And Family Life
It's crucial to understand that living for yourself doesn't diminish your ability to live for others; in fact, it enhances it. Those who lead genuinely happy lives can genuinely contribute to the happiness of others. On the other hand, those who pretend to live for others while neglecting their own happiness often find themselves complaining and feeling unfulfilled.
Each of us has a unique purpose and meaning in life, and it's essential to discover that meaning. You don't need to wait for a lifetime or multiple lives to fulfil your purpose; you can begin right now. To live authentically, you must first understand what truly matters to you. Only then can you set a meaningful goal for your life?
Prioritizing Self-Understanding
Understanding your own needs is not selfish; it's the first step towards aligning your life with your true purpose. Until you grasp what you truly desire, your life may feel directionless, like a ship without a captain. Once you identify your goals, you can start working towards them, not out of selfishness, but as a commitment to living a purposeful life. Determining to succeed is the only way to overcome failures and achieve your goals in life.
Conclusion
In conclusion, finding your inner joy and living for yourself is not a negation of your responsibilities to others but an enhancement of your ability to fulfil them. It's about rediscovering the personal joys that make life truly meaningful. So, take the time to understand yourself, pursue your passions, and live a life that aligns with your unique purpose and desires. In doing so, you'll not only find happiness for yourself but also radiate it to those around you.
How do you build your inner joy?
Thank you for your visit.
Don't forget to share it.
PVM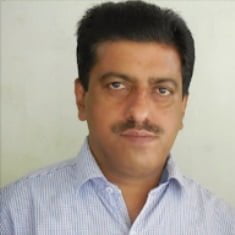 Mathukutty P. V. is the founder of Simply Life Tips. He is a Blogger, Content Writer, Influencer, and YouTuber. He is passionate about learning new skills. He is the Director of PokketCFO.
He lives with the notion of "SIMPLE LIVING, CREATIVE THINKING". He Believes – "Sharing is caring." and "Learning never ends."