(Last Updated On: October 22, 2022)
Most parents have heard many common parenting myths and may have even believed them. It is not their fault, because most parenting myths sounded so convincing and are endorsed by their parents and others who are trustable them. If the well-known parenting advice works, why do we still have so many parenting issues in society? If you search, you find that most of the common parenting myths are simply unsound advice on parenting.
Here Are 6 common parenting myths
No need to learn how to raise kids
I have to follow the same parenting style as my parents
My children are going to fulfil my dreams
Grades and results are everything
Only the mother is responsible for the upbringing of the child
I have to do perfect parenting
No need to learn how to raise kids
One of the most common parenting myths is no need to learn how to raise kids. This is something which you heard from many people. They say parenting is automatic when you become a parent. Most new parents do not know even how to hold a baby or how to bathe a baby. You might have learned many things about parenting from your family and friends through watching and taking care of other children. Still, you need to learn many basic things about parenting from elders and doctors. If you have any doubts, ask your doctor. We all need to understand that it is important to learn to parent tips for the happiness of our children.
2. I have to follow the same parenting style as my parents
Another common parenting myth is that you have to follow what your parents have done to you. Many people think it is necessary to follow the same parenting style as their parents. This is unnecessary. You can follow some methods like traditional, spiritual and other. But remember that times are changing the walls and we also need to keep updating ourselves according to the new generation. We don't need to continue; we don't need to follow all the same things that were happening from generation to generation.
3. My children are going to fulfil my dreams
Many people have a wrong dream that their children will fulfil their unsuccessful dreams in their careers. This is something that we often see in many people. If a person could not fulfil his dream to become a doctor, he or she expects the child will fulfil the dream and, for this, forces the child to choose a career of the parent's dream. This is absolutely wrong. Your children have their own identity and they may become what they want to. Allow them to choose the right career of their interest and skill. If you don't allow your child to choose a career of his or her interest, your child will fail in that career.
4. Grades and results are everything
Many parents have wrong common parenting myths that good grades and excellent results are everything required for a successful life. Most parents are worried about the grades and results of their kids in school. Many parents compare their children with other children and also give a lot of stress on the children. It is a fact that they force some children to take the wrong steps affecting their life because of their inability to handle mental stress because of the unnecessary comments from their parents. We can't deny the fact that grades and results are important to a certain extent. But grades cannot define whether a child will be successful or unsuccessful in life. There are many cases of children who were not good at studying on campus becoming very successful persons in life. Hence, grades and results are not really everything to become successful in life.
5. Only the mother is responsible for the upbringing of the child
Another very common parenting myth is it is the responsibility of the mother to handle the upbringing of the children. Even today, in many families, the mother handles the upbringing of children. It is the duty of the mother to take care of the children and the father is not much bothered about the activities of the children. As a dad, I have updated my status that I've become a proud father now and now your job is done. We need to understand it is an equal responsibility that needs to be shared by both partners.
6. I have to do perfect parenting
Many parents have the wrong common parenting myths that they have to do perfect parenting to make their kids successful. There is no perfect parenting. We need to keep trying each day to maintain better parenting and a beautiful relationship with our children. Find a few minutes daily to sit with your children and allow them to share their problems. Children may have many problems, but sometimes they are fearful to communicate. If you find any stress, fear or any unusual activities, call them and encourage them to share their problems. Don't shout at them, but try to solve their problems and console them.
Conclusion
Parenting is not a simple job and, at the same time, parenting is not a hard job. Good parenting depends on how you handle things. Children need the love and affection of their parents. If your kids are not getting excellent results, don't shout at them. Remember, every individual is unique and you can't expect your child to get the same results as other children. Even if your child is not good at studies, worry a little because he may have other skills which other children do not have. So, he will become successful in his skills. Let's avoid all the common parenting myths and work daily to improve our bond with our kids. Teach your children to have a healthy relationship with their parents.
Recommended for further reading
Are you following any common parenting myths?
Thank you for the visit. Hope you enjoyed your reading.
If you think this post will impact your life as well as others' lives, don't forget to share it.
Leave your thoughts and suggestions in the comment box below.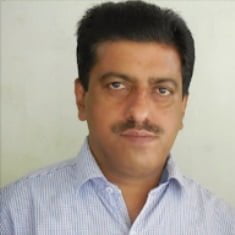 Mathukutty P. V. is the founder of Simply Life Tips. He is a Blogger, Content Writer, Influencer, and YouTuber. He is passionate about learning new skills. He is the Director of PokketCFO.
He lives with the notion of "SIMPLE LIVING, CREATIVE THINKING". He Believes – "Sharing is caring." and "Learning never ends."