(Last Updated On: October 22, 2022)
As we grow older sometimes we find it difficult to take care of our ageing parents. Sometimes that becomes challenging and interfering as we try to mould and create a life of our own while working in a faraway place. Let's find how to take care of ageing parents.
Why and how to take care of ageing parents?
Ageing parents walking
Due to age, they may lose their memories, sometimes become stubborn and question any suggestions made by their children or grandchildren. We should react softly to such things.
Sometimes, dealing with ageing parents become stressful and often involves a myriad of feelings including sadness, resentment, anger, frustration, and even fear.
Read Never Forget Parents Struggle And Sacrifice For Your Success
Ageing parents need the love and affection of their children
After achieving goals, positions, money, people forget their aged parents who worked hard to make them achieve the same.
It has become not good for their status to keep the aged parents at home and even introduce the parents to their friends and co-workers.
They think money can give everything including happiness to these aged parents. So they are ready to spend money and put aged parents into old age homes.
In the present world, it has become a fashion to throw the aged parents in old age homes.
Click To Tweet
Many of these old age homes create loneliness and discomfort for parents who have been used to having their own independence and lives at home.
Restrictions, revolving around set schedules, medication and sleeping times, controlled life leaves them estranged, leading to more emotional outbursts and disappointments.
But no, aged parents need the love and affection of their children and they like to play with grandchildren. That only can make them happy.
So admitting them into an old age home or retirement centre should be considered a last resort only.
Your parents taught you how to love, care, give, forgive, accept, and most of all they are your backbone of support.
Without their endless sacrifice during your early years, you would not be capable of what you are today.
Parents love their children unconditionally.
Click To Tweet
Children should understand that parents are their first teachers. Sometimes aged parents might be disappointed or upset with your words or deeds but at the end of the day, you are still their small child. This kind of unconditional love from parents is hard to find anywhere else in this universe.
Give value and respect to ageing parents' suggestions
Do not marginalize the older parents by excluding them completely from important decision-making activities in family matters.
We should respect the suggestions, decisions, and values of ageing parents. They may have a different view on life that may not be in keeping with modern times.
Parents have raised us and hence we should give them some credit for the way we turned out.
Very often we tend to give very little credit to the vast experience and the wisdom of our elderly parents and that make them feel ignored and sad. This is wrong. We can always learn a lot from them.
We should understand that due to the age they will suffer a general decline in health and hence should be supportive when they complain about minor aches and pains.
That proves to them that we care for them and they feel great comfort in knowing that their children care for them.
It is the duty of every child to act with responsibility to ageing parents.
Click To Tweet
We should remember that we too will reach old age at some point in time.
If we do not want to be treated badly by our own children, then we should also refrain from doing the same to our parents.
Our children must be watching everything that we do to our ageing parents and they will surely do the same way to us.
How to Relieve the Stress of Caring for Ageing Parents?
In a world where growing older can mean entering into a complex and confusing maze of difficult choices, Amy O'Rourke stands out as a passionate advocate for the elderly and their families.
As the founder of Cameron Group Care Management Services, she prioritizes the quality of life and helps families and elders navigate the challenges of ageing while supporting vital lifestyle preferences.
Things to do
Find a few minutes from your busy schedule and try to do the below:
If you can, go and volunteer at an old-age home. You can make many old people happy there.
Reconnect with your grandparents and spend a few minutes with them. Your love and affection will make them happy.
Visit elders at home and talk and listen to them. They will feel happy.
Help elderly people on the street. Say Hi to them or simply smile at them with respect. Just your smile or Hi will give happiness to them.
This will help them to remove stress, make them feel someone is there to take care of them and give them happiness. This will also give happiness to your mind and surely you and your family will get their blessings.
Find Ways to make your mind calm and peaceful
Conclusion
Do not ignore your ageing parents. They sacrificed their life for you. They don't need your money or w wealth, but they need the love and affection from their children and grandchildren. Respect them, love them and take care of them. Not only parents but also should love and take care of all the elderly.
Do you take care of your ageing parents or kept them in an old age home?
Are you working or staying far away from home and unable to take care of them?
How many times do you visit your parents in a year?
Recommended for reading
Share the post on your network.
Kindly share your views, suggestions or experiences about taking care of ageing parents in the comment box below which may help other visitors to learn more.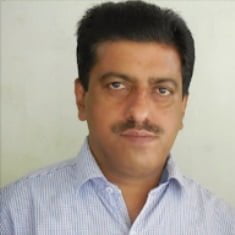 Mathukutty P. V. is the founder of Simply Life Tips. He is a Blogger, Content Writer, Influencer, and YouTuber. He is passionate about learning new skills. He is the Director of PokketCFO.
He lives with the notion of "SIMPLE LIVING, CREATIVE THINKING". He Believes – "Sharing is caring." and "Learning never ends."