(Last Updated On: May 29, 2023)
Do you know what are the important things children should learn by age 10? The age of 10 is always a big deal for kids because they tend to start feeling more mature and look for independence. You must ensure that your child is growing up to be responsible and self-sufficient. For this, you must teach your child the important things by age 10.
The 10 important things child should learn by Age 10
Do you know whatever your children learn by age 10 is the foundation of their future? If the foundation is strong, nothing can destroy the structure. So make sure to give a good and strong foundation for your child to become a successful person in life.
After this age, they may not listen to you much because they feel more mature and self-sufficient. Age up to 10 is the best time to put all the positive things in their mind.
10 important things a child must learn by age 10
Why not pin it?
Respect both girls and boys. They are equal.
Don't be afraid to make a mistake.
Knowledge is more important than grades.
Parents are not enemies. Always ask them for help.
Always be ready to stand up for yourself.
Don't do something which doesn't like for someone's approval.
Ask questions and get clarifications.
Tell the teacher if don't feel well.
Respect for the environment.
Learn to say No.
Animated Video
Watch this beautiful animated video explaining the above points in detail. You can show this video to your child also so that child will surely enjoy this animation and learn quickly.
At this growing age, they are developing their self-image, learning to face challenges and learning how to live in a healthy way for a happy and successful life.
You can build a solid foundation of good beliefs and good habits through the right information and proper guidance and that will help them transition into their teen years easier.
This age is a playful mood age and they may not remember your words but you can show them good images and quotes.
The more they look at them, they will understand, believe, and incorporate them into their lives and that will help them to build a brighter and better future.
[bctt tweet="Ensure that your child is learning good things to become a great successful person in life." username=""]
Conclusion
Hope that you could find the important things a child should learn by age 10. As you know, the strength of a building depends on the foundation. Age up to 10 years is a crucial stage for the child to build a strong foundation by learning many things. Parents are the first teachers of children. Children learn what they hear and see in the family. Ensure that your child is learning good things to become a great successful person in life. Teach your child to respect others and also help the poor.
Related articles for further reading
Do you have a child below the age of 10?
Do you teach your child all the above-mentioned points?
Feel free to share your views in the comment box below.
"Sharing is Caring!" Don't forget to share this post on your network.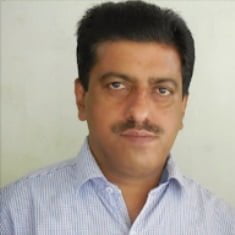 Mathukutty P. V. is the founder of Simply Life Tips. He is a Blogger, Content Writer, Influencer, and YouTuber. He is passionate about learning new skills. He is the Director of PokketCFO.
He lives with the notion of "SIMPLE LIVING, CREATIVE THINKING". He Believes – "Sharing is caring." and "Learning never ends."