(Last Updated On: July 3, 2023)
What do you want out of your life? What do you really wish to achieve in your life? The answer to this is very simple. We all want happiness in life. So, naturally, the second question arises: What is the secret to happiness? What are the things required for happiness in life? For this question, each person will have a different answer. Few people will say a lot of money will bring happiness to their life. Some people will say, name and fame will bring them happiness. Some will say, if all their dreams come true, they will be happy. For all this to happen, we must work very hard. Are these the factors really required for happiness?
Read Why Money Can Not Buy Everything Required In Life
Have you ever wanted somebody to study and share the real factors for happiness so that we can build a happy life in the future?
Is There Any Study To Find The Secret To Happiness?
There is a 75-year Harvard study that found the most important factor in human happiness. The study started in 1938 at Harvard University. This comprehensive study tracked the lives of 724 men over 75 years, which is considered the longest study on human happiness. These men joined the study as teenagers. They selected two groups of people for the study. One group was graduates of Harvard University and the other was from the slums of Boston. From the day of joining the study for 75 years, every year, their blood tests, brain scans, medical records, personal interviews, family interviews, work-life, family life, personal life, everything studied in detail. They merged tons of data and research and found out the secret factor for happiness.
The Secret To Happiness? – The Harvard Study
So what are the right choices for happiness? You may find inspiration from the participants in the Harvard Study of Adult Development — one of the longest-running studies on happiness.
The project has followed 724 men since they were teenagers in 1938. (Approximately 60 men, now in their 90s, are still left.) The group consisted of men from various economic and social backgrounds, from Boston's poorest neighborhoods to Harvard undergrads. (President John F. Kennedy was even part of the original group.) Over the years, the researchers have collected all kinds of health information, and every two years they ask members questions about their lives and their mental and emotional wellness. They even interview family members.
The Harvard Study has found a strong association between happiness and close relationships like spouses, family, friends, and social circles. "Personal connection creates mental and emotional stimulation, which are automatic mood boosters, while isolation is a mood buster," says Dr. Waldinger. This is also an opportunity to focus on positive relationships and let go of negative people in your life, or at least minimize your interactions with them.
Source: Harvard Health Publishing
The summary of the result is "Good relationships keep us healthier and happier." Deep meaningful relationships bring health and happiness to our life.
The Secret To Happiness – Three important lessons
1. Good social connections make you happy
People who maintained strong bonding and relationship with friends, family, community and neighbourhood were more happy, healthy and also their lifespan was longer. People who were left lonely were less happy and less healthy and their lifespans were shorter.
2. Quality of relationship matters
It is not the quantity of the relationship, but the quality of the relationship that matters. It is not the number of friends we have, but it is the good friends whom we can keep close to our hearts that matter. Never Keep Bad Friends.
3. Good relationships boost memory
Such couples who had healthy relationships and felt death alone can make them apart had sharper memory. Couples who felt they cannot count on their relationship deteriorated their memory over time. 
This entire study teaches us a lesson: Earning true long-lasting relationships is more important than earning money.
Today, in the race for money, name, fame and dreams, humans are forgetting relationships and love unconditionally. 
A short story
An old man took his mobile to a nearby mobile repair shop. He handed over the mobile to the technician for checking and repairing. The technician checked the mobile and told he could not find any problem with his mobile. Hearing this, tears started rolling down the old man's eyes. He asked the technician, "If the mobile is ok, then why my kids are not calling me?" 
Do You Know The Secret To Happiness?
In your busy life, many are waiting for a phone call from you, which includes your aged parents who are staying at home, and your spouse and children staying far away from you. Please find a few seconds to make a call to them regularly. Your single phone call is more than enough for their good health and happiness.
You might have stopped talking with many people for years because of minor issues and ego. We, humans, cannot afford to fail in front of others because we are superior. Have you seen a 'Touch Me Not Plant.'? We, humans, should learn a lesson from the plant Touch Me Not. Even after having thorns, when someone touches it, this plant shrinks itself and fails. It is not because it doesn't know how to win, it is just to make its loved ones happy. 
Read Forgiveness Leads To Light, Love And A Joyful Life
Importance Of Good Relationships
In good relationships, failing a bit wins the relationship. When we feel like crying, if we have a loyal friend to hug, half of our problems will disappear. When we become clueless, if we have a hand to hold us tight, that confidence alone is enough for us to move forward. In our life, human relationships are most important.
Conclusion
Healthy relationships are an important factor and the secret to happiness in life. A healthy relationship between parents and children is important for happiness in the family. That will help children to share their problems with family and that will help them to ease stress and other problems. When there is a healthy relationship between spouses, married life will be happy. Healthy relationships in the workplace will help to manage workplace stress and bring happiness.
Do you agree healthy relationship is the secret to happiness?
Thank you for the visit. Hope you enjoyed your reading.
If you think this post will impact your life as well as others' lives, don't forget to share it with your friends, relatives and social media network.
Kindly share this article on your network and help others to read it.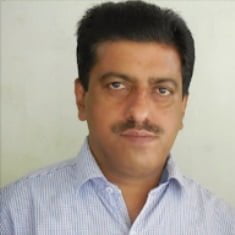 Mathukutty P. V. is the founder of Simply Life Tips. He is a Blogger, Content Writer, Influencer, and YouTuber. He is passionate about learning new skills. He is the Director of PokketCFO.
He lives with the notion of "SIMPLE LIVING, CREATIVE THINKING". He Believes – "Sharing is caring." and "Learning never ends."