(Last Updated On: September 11, 2023)
Do you know the power of thought controls your daily life? Positive thoughts are good and give happiness to the mind. But negative thoughts give stress and fear and disturb your mind. In the vast universe of our minds, a force lies dormant, waiting to be harnessed, waiting to shape our reality and guide us towards our dreams. That force is the Power of Thought, an extraordinary phenomenon that can influence the course of our lives in ways we might never have imagined. In this blog, we embark on a journey to explore the profound impact our thoughts have on our daily experiences, relationships, and the path to personal growth. Get ready to unlock the secrets of the Power of Thought, as we delve deep into the realms of the mind and discover how this remarkable force can be your gateway to transformation and success.
Power Of Thought
Our thoughts are like magnets and control our world. This is a problem most people including me face in life.
I find it difficult to control my thoughts. The problem is that negative thoughts enter the mind faster and disturb the mind.
Now you may ask if I have this problem, how can I write a post like this? I am sharing the information gained from reading, watching videos and also from life experiences.
Read How To Keep Your Mind Free From Disturbance
Power Of Thought | How to Unlock the Full Potential of Your Mind?
Dr Joe Dispenza is one of the most sought-after speakers in the world. He is also a New York Times bestselling author. He is teaching the world how to empower and heal our minds through meditation and mindfulness.
Dr Joe Dispenza's studies have proven that when well practised these tools can put us on the path to understanding. It also helps in breaking deep-rooted bad habits and even healing illnesses.
Find 10 Amazing Habits You Must Adopt For A Successful Life
In this episode of Impact Theory with Tom Bilyeu, he explains how to stop your mind from controlling you.
Points in this video
How habits and experiences shape us over time.
Speaks on the relationship between your body and the unconscious mind.
Details the power meditation can have on the way you think and live.
Discusses the roadblocks to creating long-term change.
Explains how epigenetics contribute to change.
Joe tells the impact he wants to have on the world.
This is really a great inspiring video. We all should realise the power of thought and we should control our thoughts.
Read Dr Joe Dispenza's Inspiring Story And Rules For Success
Power Of Thought – The Ultimate Power of Positive Thinking – Infographic
The power of positive thinking is necessary to accomplish great success in all areas of your life. Whenever you have a negative thought in your mind, you have to change that negative thought into a positive one.
No matter how bad thoughts are in your mind, you must weed out those things. You should train your mindset. Most people are not aware of the power of thought and the benefits of positive thinking. Only a few people really know the core benefits of positive thinking. 
This infographic explains the ultimate power of positive thinking.
Power of thought – How to control your brain and master your mind?
1. Take control of your thoughts
No matter what your thoughts are, you can always change them because you are the thinker behind those thoughts.
It is a matter of self-awareness. We should not allow our thoughts to go on an 'auto-pilot' mode. We should take responsibility for the thoughts that go on in our heads and control them.
Learn to overcome negative thoughts
2. Face the real you
It takes a lot of time and introspection to face the real you. It is scary to face the real you and it is not fun.
However, it is the only way to become successful in life. When you look at the real you, your life will be successful.
What does success mean to you? This is a big question you have to honestly ask yourself.
Your mindset reflects your reality. If you are not happy with your reality, you should change your mindset.
What does facing the real you look like for you?
3. Change your beliefs
Some people live in constant fear and don't know how to control their thoughts. They want to change their thoughts, but it is difficult to get rid of the negativity.
Why negative is more powerful than positive? I could not find an answer to this.
Negative posts and fake news spread fast on social media. Negative thoughts enter the mind more quickly than positive thoughts.
Some beliefs also disturb our minds because our belief is that if we do something it will affect our lives in a bad way.
If we change our old beliefs, that itself will help a lot to control our minds.
Reference: YouTube
What about you? Are you facing such problems?
What's the belief change that you need to make?
Find Easy Ways To Make The Mind Calm And Peaceful
Conclusion
The above talked about many good tips about how to control our minds. But is it practical for us? From my experience, I can say it is not easy. You must have understood the power of thought. What do you think? How do you control your thoughts?
Become the CEO of Your Own Brain in Six Easy Steps
Where do you need to take control of your thoughts?
Do you like to share your experience with the power of thought?
Let me know your thoughts in the comment box below
Thanks for sharing the post on your network.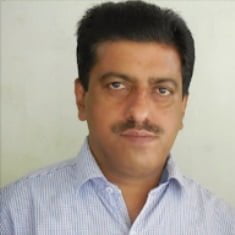 Mathukutty P. V. is the founder of Simply Life Tips. He is a Blogger, Content Writer, Influencer, and YouTuber. He is passionate about learning new skills. He is the Director of PokketCFO.
He lives with the notion of "SIMPLE LIVING, CREATIVE THINKING". He Believes – "Sharing is caring." and "Learning never ends."