(Last Updated On: November 13, 2022)
Do you know Dr Joe Dispenza inspiring story?
Dr Joe Dispenza is one of the most sought-after speakers in the world and a New York Times bestselling author.
Dr Joe Dispenza – Top 10 Rules For Success
Be a creator of your world
Invest in yourself
Be comfortable in the unknown
Improve your lifestyle
Let go of your past self
Become supernatural
Don't make excuses
Become truly present
Keep going
Think greater than your environment
He is driven by the conviction that each of us has the potential for greatness and unlimited abilities.
Dr Joe Dispenza Inspiring Story
When was Dr Joe Dispenza born?
Born July 18, 1961, in Buffalo, NY; son of Joseph Jerome and Dalia (an X-ray technician; maiden name, Prats) Dispenza.
Is Joe Dispenza a scientist?
Yes, Dr Joe Dispenza is an International speaker, researcher, author and educator. He is passionate about the findings from the field of neuroscience, epigenetics and quantum physics to explore the science behind spontaneous remissions.
About Dr Joe Dispenza
Film appearances
2009 Unleashing Creativity
2010 What IF – The Movie
2011 People v. the State of Illusion
2012 Sacred Journey of the Heart
2014 E-Motion
2017 HEAL
To help people better understand and unlock the power of their minds he lectured and gave advanced workshops in over 30 countries across five continents.
His expertise is the intersection of the fields of neuroscience, epigenetics and quantum physics. To perform extensive research on the effects of meditation using advanced technologies, he partnered with other scientists across multiple disciplines.
In his groundbreaking book, You are the placebo he covered the topic of "understanding of mind-derived health optimization". Using this topic he is trying to help advance both the public at the large and scientific community.
He helps people through his teachings to heal themselves of illnesses, chronic conditions, and even terminal diseases. So they can enjoy a more fulfilled and happy life and evolve their consciousness.
His teaching is easy-to-understand, encouraging, and compassionate. He educates people on how to rewire their brains and recondition their bodies to make lasting changes.
Conclusion
Living in regret of past mistakes and letting their past 'circumstances' define what the future will turn out to be is an assumption manifesting into our physical reality. Forget past mistakes and live in the present for success in life.
What are the points inspired you from his inspiring story?
Thanks for spreading the love with others. Remember " Sharing is Caring!"
Your valuable suggestions and comments will help to make my effort on this small blog a success. Feel free to share your views in the comment box below.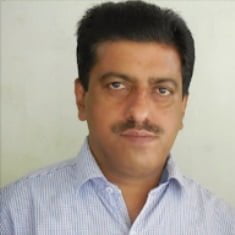 Mathukutty P. V. is the founder of Simply Life Tips. He is a Blogger, Content Writer, Influencer, and YouTuber. He is passionate about learning new skills. He is the Director of PokketCFO.
He lives with the notion of "SIMPLE LIVING, CREATIVE THINKING". He Believes – "Sharing is caring." and "Learning never ends."