(Last Updated On: July 3, 2023)
Artists are known for their thoughts – creative, free, without any boundaries, and always colourful. Abstract art is a form of art where the artist creates a masterpiece that's free-spirited and colourful. These colours, shapes, forms, and designs are nothing but mere representations of their thoughts. Some people have myths about abstract artists that need to be shattered.
Myths About Abstract Artists That Need To Be Shattered
Talking about abstract artists, one of the renowned and effortless artists Krupa Shah's artwork is something that sets a level higher for the abstract art industry. That is because gives the opposite person entire freedom to judge the paintings and come up with their own thoughts about the same.
However, there are some myths or stereotypes that revolve around every artist, especially the one whose forte is abstract art. And just like every other artist, Krupa would also like to break these delusions and show the real side of an abstract artist.
Myths About Abstract Artists
Here are some of those misconceptions that we, as a common man have about these artists:

1. Abstract artists are elitists
People often say that artists who love doing abstracts are snobs or are boring, However, the truth is, they are highly creative and love to talk about everything, and not only just art. Their paintings themselves are more than just shapes and figures. It has a concept in it, yet the viewer has the entire independence to put forth their views. For abstract is not only theoretical but also transcendent.
2. Abstract artists are loony
Whoever thinks that artists are insane or mentally unbalanced, needs a reality check! Artists are not insane, they just look at the world very differently. Their thoughts about one thing would be absolutely different from yours and that's what makes them unique and imaginative.
3. They are jobless
If one makes their passion their profession, chooses to be an entrepreneur and enjoys what they do, how come they are unemployed? The correct word is 'self-employed.'
4. You need to be talented to be an artist
Well, one needs to have a desire to be an artist. If you have the passion to spill your thoughts on the canvas, talent will follow automatically and so will the techniques. Talent doesn't matter, an appetite for becoming an artist does.
5. Abstract painting is easy
Says who? Why should anything that's worth doing be easy?
There are a number of techniques that anyone can learn (such as shading, rules of perspective, colour theory, etc.) to produce a painting in a relatively short time. But it takes real effort to move beyond mediocrity.
Great artists can make it look easy, but that 'ease' has, like any great skill, come through years of hard work and practice. This is proven effortlessly by Krupa Shah's signature collection Abhiscka which is all about Conches (Shankh) and has such minimal yet beautiful artwork. It seems easy ut is a result of her years of endurance and dedication to the art.
These are some of the most common misconceptions or myths that every artist hears almost every day. Let us shatter these stereotypes and see the world from an artist's perspective.
Krupa Shah   
Acclaimed Artist
Born and brought up in Mumbai, Krupa Shah has been artistically inclined since she was a little girl. She remembers being drawn to canvas and discovering her own individual style as a teenager.
Her ideas translated into paintings instantly. It was then that she discovered her inborn passion for Art and ever since she hasn't looked back.
From a devoted mother to a dedicated artist, Krupa essays many roles in her life and she fulfils them dutifully. She has been mentored by senior artists and veterans in the field and she feels fortunate to have their support and guidance alongside her loved ones who have fostered her craft. She has been an active member of FICCI, All Ladies League and Women Economic Forum and has also headed important panels.
She believes that every woman and girl has a right to follow their true calling and her calling was in the field of Art. With abstract paintings, Krupa portrays her feelings to her audience and lets them interpret them in the way they feel.
From Maharashtra CM's clarion call for helping the drought-affected farmers in Maharashtra, to fighting for justice for Asifa – Krupa has raised funds to ensure that her rewards on Art are utilized for a good social cause. She believes, "Art is an understanding which comes from the real world and the experiences lived."
She has participated in important group exhibitions and conferences in India and abroad, some of which include, The United Nations Day of Vesak, Vietnam; De Art Event and DIFC Dubai, UAE and in metropolitan Indian cities like Mumbai, Bangalore, Ahmedabad, Pune and New Delhi.
For her philanthropic work and contribution to art, Krupa has received both rewards and awards. Some of the prominent ones include the Best Artist Award by Global Business Information; Iconic leader contributing to a better world by Woman Economic Forum; Make in India Award organized by Bharat Nirman Foundation.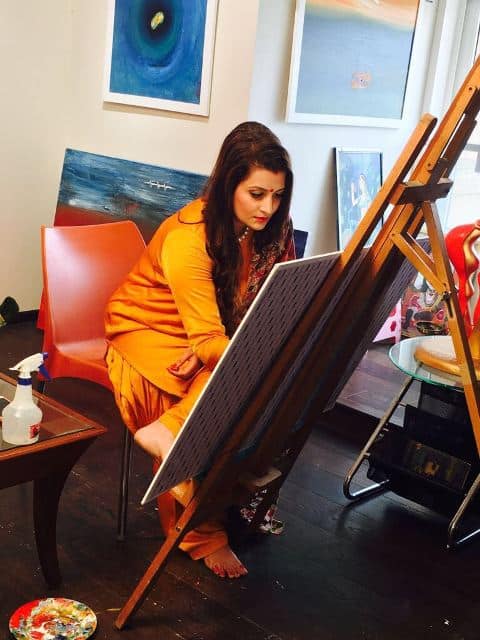 Krupa Shah's signature collection
Conclusion
God has created everyone with a special talent. Some people do not identify their talents and some people do not get the chance to ignite the fire within them and improve their strengths. Some are unsung heroes who are not able to display their talents to the public. It is our responsibility to encourage and help every person to identify and improve their talents to achieve success in life.
Hope this small post removed all myths about abstract artists and helps to give them proper honour, respect and motivation to become successful.
Recommended for further reading
Do you like to share your story with others?
Feel free to share your thoughts in the comment box below
"Sharing is Caring!" Thanks for sharing the post on your network.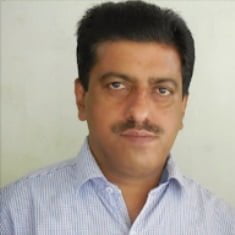 Mathukutty P. V. is the founder of Simply Life Tips. He is a Blogger, Content Writer, Influencer, and YouTuber. He is passionate about learning new skills. He is the Director of PokketCFO.
He lives with the notion of "SIMPLE LIVING, CREATIVE THINKING". He Believes – "Sharing is caring." and "Learning never ends."