(Last Updated On: September 20, 2023)
In the pursuit of happiness and fulfilment, we all yearn to discover the secret recipe that can make life successful – an extraordinary journey akin to a blockbuster movie. Imagine the possibility of turning the mundane into the remarkable, the ordinary into the extraordinary, and your life into a narrative filled with awe-inspiring achievements and breathtaking moments.
Today, we're about to embark on a thrilling exploration into the art of transforming your life into a cinematic masterpiece. Just as a skilled filmmaker crafts an enthralling plot, you too can script your own story of success. Join us on this epic adventure as we uncover the strategies, mindset shifts, and practical steps needed to make life successful in a way that even Hollywood would envy. Get ready to take centre stage and start your journey towards an awe-inspiring life that truly resembles a blockbuster movie.
How To Make Life Successful Like A Blockbuster Movie?
A Moral Story
As the father lay on his deathbed, he turned to his son with a sincere expression, his voice quivering with the weight of his words. "I don't want you to regret like me," he said, his eyes reflecting a lifetime of missed opportunities and unfulfilled dreams. "I know my life has been like a flop movie because I didn't live it to the fullest. Please, promise me, you won't make the same mistake with yours."
With those poignant words, the father took his last breath and peacefully passed away.
The grandson, curious and puzzled, turned to his father, who had tears glistening in his eyes. "Dad, why did Grandpa say it was a flop movie? What movie was he talking about?"
The father gently wiped away a tear and explained, "You see, my son, our life is like a movie. If we don't seize every opportunity, if we let fear and hesitation hold us back, then we end up with a life filled with regrets. That's what Grandpa meant by a 'flop movie.' It's a life where we didn't live to the fullest, where we didn't embrace each moment with joy and enthusiasm."
He continued, "But if we live every moment of life to its fullest, if we pursue our dreams, love deeply, and savour every experience, then our life becomes a blockbuster movie. It's a life where we are content and happy at the end because we have no regrets. Your grandpa wished for us to have a blockbuster life, my son, and that's the legacy we should strive to fulfil."
Make Life Successful Like A Blockbuster Movie
Your Life, My Friend, is an epic movie, spanning multiple genres like action, drama, comedy, romance, and thrilling suspense. Each phase brings a new set of emotions and experiences, making every second a special moment. There are no retakes in this grand production; it's a one-time, all-or-nothing deal.
Sometimes, scenes won't unfold as you expect them to. That's okay; the movie isn't over yet. Like any good film, there are twists and turns that keep the audience engaged. Some shots may seem unjustified during the filming, but when the final cut is revealed, everything falls into place.
The hero of this story, which is none other than you, might encounter setbacks and face adversity. But remember, even when the hero gets injured, they stand up and fight again. No matter what fate throws your way, keep fighting until your last breath.
In this cinematic journey, you are the central character, the hero. Strive to give your best performance in every shot and breathe life into every scene. When the time comes for the screening of your life's movie during its last minutes, it will be a blockbuster, a masterpiece of courage, resilience, and meaningful experiences.
Live every day as if you were creating the most beautiful and meaningful movie. Don't just watch your life; be an active participant in it. When the credits roll and your story concludes, be ready to say, "I lived life to the fullest. My life was a blockbuster movie," and leave a legacy worth remembering.
Are you facing any of these problems?
In the tapestry of life, various emotional challenges can often hinder our journey towards happiness and success. Anger, jealousy, mental health issues, negative thoughts, and fear can cast shadows over our well-being. However, there are manageable steps to regain control and steer our lives towards the light of positivity and happiness.
Anger, a common adversary, has the power to erode our joy and isolate us from our community. To overcome it, we can follow simple yet effective steps that enable us to channel this emotion constructively.
Control Anger with Easy Steps.
Jealousy, another formidable foe, can rob us of contentment. It's imperative to work on overcoming jealousy to infuse our lives with genuine happiness.
Mental health problems, such as workplace stress, anxiety, and depression, are on the rise. It's crucial to recognize these issues and seek help when needed. Your mental well-being is paramount, and there are resources available to support you.
Negative thoughts often plague our minds needlessly. However, there are practical methods to stop dwelling on negativity and foster a more positive outlook on life. Remaining steadfast in your commitment to positivity and actively dispelling negativity is essential for a happy life. It's a conscious choice to nurture happiness.
Fears are natural companions on our life's journey. When left unattended, they can grow into formidable obstacles. Conserve your energy for productive pursuits and tackle your fears head-on, for they are conquerable.
Life's path is strewn with obstacles, but remember, they are not meant to shatter your dreams of success. Instead, view them as stepping stones, guiding you towards your goals. Your journey is unique, and your perseverance will determine your destination. So, stay resolute, for success awaits those who navigate life's challenges with determination and optimism.
Never allow obstacles to break success.
Take control of your own life by refusing to let it be dictated by:
Your Past: Your history is not your destiny. While your past experiences shape you, they should not confine your future. Learn from the past, but do not let it hold you back.
Other People's Opinions and Judgments: You are not defined by the opinions and judgments of others. It's your life, and you have the power to make choices that align with your values and aspirations, irrespective of what others think.
The Limited Beliefs You Project on Yourself: Self-doubt and limiting beliefs can be powerful inhibitors. Challenge these beliefs and replace them with positive, empowering thoughts that reflect your true potential.
Relationships: While relationships are important, they should not control your life. Maintain healthy boundaries and ensure that your personal growth and well-being are not compromised by the dynamics of any relationship.
Money: Money is a tool, not the master of your destiny. Financial stability is important, but it should not overshadow your pursuit of happiness and personal growth.
By refusing to allow these factors to control your life, you reclaim your agency and empower yourself to make choices that lead to a more fulfilling and authentic existence. Your life is yours to live, and you have the capacity to shape it in a way that aligns with your true desires and values.
Things that can control your life
Our thoughts and beliefs have a profound impact on our actions and, consequently, our lives. Here are a couple more factors that can influence and control our lives:
Thoughts and Actions: Your thoughts are the seeds of your actions. Positive thoughts tend to lead to positive actions, while negative thoughts can result in negative actions. Cultivating a positive mindset is key to steering your life in a positive direction. Remember, you have the power to change your mind and, consequently, change your life.
Self-Doubt: Self-doubt is a common adversary that many people face. It's that inner voice of uncertainty and insecurity that can hinder progress and prevent you from reaching your full potential. Overcoming self-doubt is essential for personal growth and success. There are indeed practical steps and strategies to boost self-confidence and silence that inner critic.
By recognizing the impact of your thoughts and addressing self-doubt, you take significant steps toward regaining control over your life. It's crucial to foster a positive mindset and develop self-belief, as these factors can empower you to overcome challenges, set and achieve goals, and ultimately lead a more fulfilling and successful life. Your mind is a powerful tool—use it wisely to shape the life you desire.
Justin Bieber – I'll Show You – A beautiful song
"I'll Show You" by Justin Bieber is indeed a beautiful song that explores themes of vulnerability, self-reflection, and the challenges of fame. The opening line, "My life is a movie," sets the stage for a heartfelt journey through the artist's personal experiences and emotions. Through its evocative lyrics and emotive melody, the song allows listeners to glimpse into Justin Bieber's world, highlighting the universal struggle of finding oneself amidst the complexities of life and fame. "I'll Show You" serves as a poignant reminder that even the most iconic figures in the entertainment industry grapple with the same human emotions and insecurities as anyone else.
Lyrics: Credits YouTube
My life is a movie
And everyone's watching
So let's get to the good part
And passed all the non-sense
Sometimes it's hard to do the right thing
When the pressures is coming down like lightening
It's like they want me to be perfect
When they don't even know that I'm hurting
Cause life's not easy
I'm not made out of steel
Don't forget that I'm human, don't forget that I'm real
Act like you know me, but you never will
There's one thing I know for sure
I'll show you
I'll show you
I'll show you
I've got to learn things
Learn them the hard way
Got to see what it feels like
No matter what they say
Sometimes it's hard to do the right thing
When the pressures is coming down like lightening
It's like they want me to be perfect
When they don't even know that I'm hurting
Cause life's not easy
I'm not made out of steel
Don't forget that I'm human, don't forget that I'm real
Act like you know me, but you never will
There's one thing I know for sure
I'll show you
I'll show you
I'll show you
Cause life's not easy
I'm not made out of steel
Don't forget that I'm human, don't forget that I'm real
Act like you know me, but you never will
There's one thing I know for sure
I'll show you
I'll show you
Conclusion
To make life successful is to embark on a purposeful journey of personal growth, fulfilment, and achievement. It involves embracing various aspects of life, from managing emotions like anger, jealousy, and self-doubt to addressing mental health concerns and negative thought patterns.
By refusing to let the past, and other people's opinions, and limiting self-beliefs, relationships, or money control one's life, individuals can regain control and shape their destiny. Moreover, recognizing the power of thoughts, both positive and negative, and overcoming self-doubt are essential steps toward personal empowerment.
Ultimately, the key to making life successful lies in one's mindset, choices, and determination. It's about embracing challenges as opportunities, cultivating a positive outlook, and using one's inner strength to overcome obstacles. In the grand tapestry of life, each person has the potential to be the author of their own success story, crafting a life that is both meaningful and fulfilling.
Are you ready to make life successful?
I appreciate your visit. I trust you found the post enjoyable.
Remember, Sharing Is Caring! Feel free to share this post on your social media and other networks to help others discover it.
Please share your thoughts and insights in the comment box below.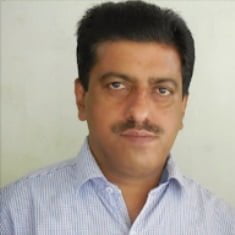 Mathukutty P. V. is the founder of Simply Life Tips. He is a Blogger, Content Writer, Influencer, and YouTuber. He is passionate about learning new skills. He is the Director of PokketCFO.
He lives with the notion of "SIMPLE LIVING, CREATIVE THINKING". He Believes – "Sharing is caring." and "Learning never ends."