(Last Updated On: September 5, 2023)
What are the qualities of a Great Teacher? Many people are not clear about this question. Let us watch videos of motivational speakers to learn their views. There are wise quotes about teachers from great people. Also, find an infographic about what makes a good teacher. All these will help you to become a great teacher.
What are the qualities of a Great Teacher?
People have different types of jobs depending on qualification, ambition, or luck. Many times do not get the job as per wish and have to do other jobs because of no other option to earn money for a living.
Read Easy ways to boost self-confidence.
Some people think teaching is an easy and best job because teachers get more holidays and free time for other work in a day compared to other jobs. Do you think it is true? No.
Teachers have to face a lot of mental stress and physical burden daily as part of their work.
What makes a good teacher great?
Every good teacher wants to be great, there is no doubt about that.
Watch this video and listen to the inspiring talk by Azul Terronez, The author of the best-selling book "The art of Apprenticeship".
He has coached teachers and school leaders around the world in Spain, Chile, Canada, India, the United States and China. His words will help to understand what makes a good teacher great.
Qualities required for a great teacher
Do you know what are the most important qualities you should have?
Enthusiasm
Empowering
A caring attitude toward students
Good knowledge
Positive
Capacity to keep up discipline and classroom management
Inspirational
Teaching is one of the most complicated jobs today. Because a good education, knowledge about the subject, and hard work are necessary to succeed in this profession.
Life of a teacher
Teaching is the main work of a teacher. But apart from teaching what else does a teacher do?
In day-to-day life teachers have much work like copy correction, preparing questions, conducting examinations, answering paper corrections, etc.
Due to this kind of heavy schedule of work teachers cannot live life to the fullest and sometimes forget the purpose of their living.
Teachers are not working only for earning the money they need for a living. They have also a desire in mind they should change their students' lives with their help.
A good teacher's most happy moment in life is the success of the student.
A good teacher will always point out and correct the mistakes of the students.
Instead of giving punishment, help them to correct their mistakes. Students will always remember a teacher who helped to correct their mistakes and become good citizens.
Technology is changing very fast and the present world is relying on and focusing more on new technology.
Hence it is important to get the children involved and prepared at a younger age to move forward with the new technology.
Ignore criticism
Sometimes, someone just points out the silly mistakes of a teacher, criticizes, and creates a big issue that affects the mind and mood.
It is always better to ignore such criticism and avoid wasting your valuable time. Never make the mood off with such silly matters.
Appreciation is very necessary for encouraging the students to do better in the future.
A teacher should be always happy
It is very important that a teacher should be always happy. There should not be any limit to that happiness. Because a happy person can do nothing wrong to another person.
A happy teacher will teach better and the students will understand and learn better.
Teachers should not waste their valuable time and mood by thinking about small matters, comparing salary or promotion with others, etc.
The working environment of teachers is great that can never get from any other job. A teacher is always in contact with students and makes them great leaders and professionals.
Characteristics of being a "Great Teacher"
Well-dressed and good personality
Good education and knowledge
Good communication skills
Be a good listener
Have a good sense of humour
Kindness, accessible, and caring
High expectations for all students
How to become a better teacher?
Watch this inspiring talk by Mariappan Jawaharlal
Due to many reasons, personal or family problems, some students can have bad days, stress, anxiety, or depression.
Treat them like a parent. It would be better to meet such students after classes and find out what is the exact problem. Support, motivate, and push to do better. if needed, meet their parents to solve the problem.
Some students may not understand and learn fast. That is not their fault. All are not the same. Be patient and explain repeatedly. Ensure that all students understand what you are teaching.
Some students may need your emotional support more than a piece of information. Recognise such students and support them.
Things to do
Create a welcoming and good learning environment for all students.
Keep ready daily objectives for students.
Before starting a lesson, make students understand what they will learn.
Always listen to students, correct their words if needed, and apply their suggestions if valuable.
Give proper value to the ideas and opinions of every student.
Give tasks to students and complete them on time.
Encourage and push students to achieve success in class and life.
Express and apply a personal interest to every student.
Apply special interest and provide special help to weak students.
When addressing students' arguments, always Stay calm and solve their problems.
Try to give many avenues of participation to quiet students and make them active.
Help students struggle in their studies.
Remember the responsibilities and always be a professional.
Keep a sense of humour to make the students' minds attracted to teaching and not bored.
Call parents to school, discuss with them their children and keep good relationships with them.
Infographic – What makes a good teacher?
This infographic visually explains what makes a good teacher.
Motivational Speech – Sandeep Maheshwari
In the below video in Hindi, Sandeep Maheshwari,  one of the top motivational speakers talks about how to be a great teacher.
Conclusion
It is easy to find great teachers with all the required qualities because there are many great teachers who have great dedication to their profession.
A teacher is next to God.  Proper respect should be given to teachers. Blessings from the teacher are necessary for students to achieve success in life.
Do you like to share tips to become a good teacher?
Share your thoughts in the comment box below.
"Sharing is Caring!" Share this article on your network.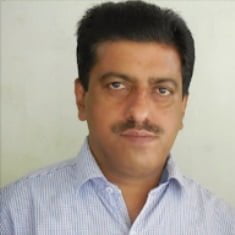 Mathukutty P. V. is the founder of Simply Life Tips. He is a Blogger, Content Writer, Influencer, and YouTuber. He is passionate about learning new skills. He is the Director of PokketCFO.
He lives with the notion of "SIMPLE LIVING, CREATIVE THINKING". He Believes – "Sharing is caring." and "Learning never ends."