(Last Updated On: October 2, 2023)
Do you have a fondness for KFC's delicious chicken? It's hard to miss a KFC outlet at practically every turn when you're out and about. Interestingly, many young people have a preference for KFC over homemade chicken dishes. Have you ever wondered about the intriguing journey of how Colonel Harland Sanders started KFC and transformed it into one of the world's most prominent brands?
When you think of finger-lickin' good fried chicken, one name that instantly comes to mind is KFC (Kentucky Fried Chicken). The man behind this globally recognized fast-food empire is none other than Colonel Harland Sanders. His journey from a humble start to becoming a household name in the world of fast food is nothing short of extraordinary. In this blog, we'll delve into the inspiring life and legacy of the KFC founder, Colonel Harland Sanders.
KFC Founder, Colonel Harland Sanders
Colonel Harland Sanders, the founder of Kentucky Fried Chicken (KFC), was a culinary visionary whose secret blend of 11 herbs and spices revolutionized the fast-food industry. From humble beginnings, Sanders turned a simple roadside service station into a global fried chicken empire that continues to delight taste buds worldwide. His iconic white suit, black string tie, and goatee became synonymous with the KFC brand, and his commitment to quality and innovation forever changed the way the world enjoys fried chicken. Colonel Sanders remains a beloved figure in the annals of American entrepreneurship, leaving behind a legacy of finger-lickin' good food that transcends generations.
Early Life And Struggles
Harland David Sanders was born on September 9, 1890, in Henryville, Indiana, USA. His early life was marked by hardship and challenges. After his father's death when he was just six years old, Harland had to shoulder significant responsibilities to help support his family. He dropped out of school in the sixth grade and worked various jobs to make ends meet.
The Birth Of The Famous Recipe
At the age of 40, Sanders was running a small roadside service station in Corbin, Kentucky. It was here that he began serving his now-famous fried chicken. His unique blend of 11 herbs and spices created a flavour that was unlike any other. Customers quickly took notice, and Sanders' chicken gained popularity in the community. This led to the birth of the "Original Recipe" that would eventually become the cornerstone of KFC.
The Kentucky Fried Chicken Franchise
In 1952, at the age of 62, Harland Sanders began franchising his chicken recipe, which he referred to as Kentucky Fried Chicken. His approach to franchising was revolutionary for its time. He travelled across the United States in his iconic white suit and black string tie, personally cooking chicken for restaurant owners and teaching them his secret recipe.
By 1964, KFC had over 600 franchises across the United States and beyond. The company's growth was fueled not only by the delicious chicken but also by Sanders' dedication and commitment to quality.
Becoming The Colonel
Sanders' distinctive look, complete with his white suit, black tie, and goatee, became an iconic symbol of KFC. In 1955, the Kentucky Governor awarded him the honorary title of "Colonel" in recognition of his contributions to the state's cuisine.
Selling His Empire
In 1964, at the age of 73, Colonel Sanders sold the KFC corporation for $2 million, retaining the role of brand ambassador and quality controller. He continued to travel, visit KFC restaurants, and promote the brand until his retirement.
Legacy And Impact
Colonel Harland Sanders passed away on December 16, 1980, at the age of 90. His legacy, however, lives on. KFC is now a global fast-food giant with thousands of restaurants worldwide, serving millions of customers each day.
Sanders' story is a testament to the power of perseverance, innovation, and the pursuit of one's passion. He transformed a simple recipe into an international phenomenon and proved that success knows no age limits.
Inspirational True Story – Colonel Harland Sanders
Biography Of Harland Sanders, Founder of KFC
Born on September 9, 1890, in Henryville, Indiana.
Lost his father at the age of 5.
Quit school at 16.
Experienced job loss from four different jobs by age 17.
Got married at 18.
Worked as a railroad conductor between the ages of 18 and 22, which ended in failure.
Joined the army but washed out.
Rejected from law school.
Tried and failed as an insurance salesman.
Became a father at 19.
His wife left him, taking their baby daughter, at age 20.
Worked as a cook and dishwasher in a small café.
Attempted to kidnap his own daughter, later convincing his wife to return.
Retired at age 65, receiving a government check for $105.
Contemplated suicide, but instead, wrote down what he could have achieved in life.
Realized his talent for cooking and borrowed $87 against his check.
Started selling fried chicken using his secret recipe door-to-door in Kentucky.
At age 88, Colonel Harland Sanders became a billionaire.
Passed away on December 16, 1980, in Louisville, Kentucky, leaving a legacy of resilience and entrepreneurial success.
Conclusion
Colonel Harland Sanders' life journey from humble beginnings to the creation of a global fast-food empire is a true rags-to-riches story. His determination, unwavering commitment to quality, and the secret recipe for his famous fried chicken have left an indelible mark on the world of fast food. The next time you enjoy a bucket of KFC's finger-lickin' good chicken, remember the man behind it all – the legendary Colonel Harland Sanders.
Recommended for reading
You can read more on Wikipedia
I appreciate your visit. I trust you found the post enjoyable.
Remember, Sharing Is Caring! Feel free to share this post on your social media and other networks to help others discover it.
Please share your thoughts and insights in the comment box below.
PVM
Photo Credits – Edgy01 at English Wikipedia [CC BY-SA 3.0], via Wikimedia Commons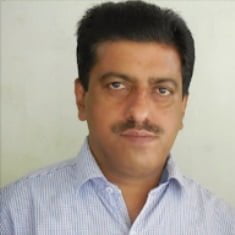 Mathukutty P. V. is the founder of Simply Life Tips. He is a Blogger, Content Writer, Influencer, and YouTuber. He is passionate about learning new skills. He is the Director of PokketCFO.
He lives with the notion of "SIMPLE LIVING, CREATIVE THINKING". He Believes – "Sharing is caring." and "Learning never ends."