(Last Updated On: July 5, 2021)
Indra Nooyi (Indra Krishnamurthy Nooyi) is an Indian Born American business executive. She is one of the most well-known faces among Indian women entrepreneurs. Her success story is inspirational to others. Let's go through her journey of success.
Indra Nooyi PepsiCo CEO
She was the Chief Executive of PepsiCo the second-largest food and beverage business in the world by net revenue.
Earlier Life and Education
Indra Nooyi born to a Tamil-speaking family in Madras (now known as Chennai), Tamil Nadu, India.
She studied at Holy Angels Anglo-Indian Higher Secondary School in Madras.
She received Bachelor's Degrees in Physics, Chemistry and Mathematics from Madras Christian College of the University of Madras in 1974.
Post Graduate Programme (MBA) from The Indian Institute of Management Calcutta in 1976.
Career
Beginning her career in India, Indra Nooyi held product manager positions at Johnson & Johnson and textile firm Mettur Beardsell.
She was admitted to Yale School of Management in 1978 and earned a Master's Degree in Public and Private Management.
While at Yale, she completed her summer internship with Booz Allen Hamilton.
Graduating in 1980, she joined the Boston Consulting Group (BCG) and then held strategy positions at Motorola and Asea Brown Boveri.
Since April 2015, Nooyi has been an independent director at Schlumberger.
Indra Nooyi joined PepsiCo in 1994 and was named CFO in 2001.
She was named President and CEO in 2006, replacing Steven Reinemund.
She has consistently ranked among the World's 100 Most Powerful Women.
In 2014, she was ranked at 13 on the list of Forbes World's 100 most powerful women and was ranked the 2nd most powerful woman on the Fortune list in 2015.
She received prestigious Padma Bhushan for her business achievements and being an inspiration to India's corporate leadership.
Inspirational Speech by Indra Nooyi
She speaks of her upbringing in India and her journey to become the Chief Executive Officer of PepsiCo.
In this inspirational video, Indra Nooyi urges entrepreneurs to be consistent, never lose curiosity and keep learning and remain a lifelong student!
[bctt tweet="Whatever you do, look upon it as a calling as a passion and not something temporary." username="simplylife_tips"]
Indra Nooyi –  Top 10 Rules For Success
Be bold
Connect with others
Think longterm
Throw a temper tantrum
Be a life-long student
Work with purpose
Follow your dreams
Be willing to make sacrifices
Throw yourself into your passion
Care
The Bolder We Can Be, The Better!  Indra Nooyi
Joined Amazon
Nooyi stepped down as CEO of Pepsico in October 2018. In Feb.2019 she joined Amazon, the online retail giant as Amazon's board of Directors. Nooyi would be a member of the audit committee.
Conclusion
Indra Nooyi is really a good example of women empowerment. She is an inspiration to many women in the world, especially for the women in India. Her success proved that women can achieve anything and the sky is the limit. Today there are many women entrepreneurs and also women holding responsible positions in many fields. Let's appreciate and encourage women to take more challenges and become successful in life.
Here are handpicked success stories
Have you set a goal for your life?
Are you worried about how to choose the right career?
Do you like to become a leader and people appreciate your leadership?
Do share this post on your social media network and help others to read get inspired for a successful life.
Feel free to share your views in the comment box below.
Photo Credits – World Economic Forum [CC BY-SA 2.0], via Wikimedia Commons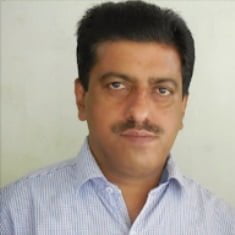 Mathukutty P. V. is the founder of Simply Life Tips. He is a Blogger, Content Writer, Influencer, and YouTuber. He is passionate about learning new skills. He is the Director of PokketCFO.
He lives with the notion of "SIMPLE LIVING, CREATIVE THINKING". He Believes – "Sharing is caring." and "Learning never ends."