(Last Updated On: October 12, 2021)
Today, even in small towns, big malls, shopping complex, hypermarkets, big grocery shops and supermarkets are attracting people with offers and discounts. It has become a habit for many people to buy from these big shops only. People ignore the Small Street Vendors and small shops.
Who are street vendors?
Street vendors are poor people who offer services or selling goods on the street. Street vendors do not have a permanent shop. They sell their goods on a temporary static structure, mobile stall or on head-load.
Small street vendors offer easy access to a wide range of goods, fresh fruits, vegetables and services in public spaces. Their workplace is insecure, have poor social protection. They are sitting in strong sun, heavy rains and extreme cold and this cause many health issues.
Small street vendors are not selling to earn huge profits, but that is their daily bread. 
Click To Tweet
Sometimes, they can't earn anything and their children have to sleep hungry. Before bargain, think about them, their hungry children.
This doesn't mean that you should pay if the offer price is not worth or beyond the market price. But don't bargain knowingly if their offer is lower than or equal to the market price.
A short story of small street vendors
While walking on the road he heard the voice of a footpath vegetable seller," Sir, if you buy from me, you will get 5 benefits than the supermarket. "
When looked back, he saw a poor man selling vegetables and a small boy (cashier) sitting on a chair.
He asked, "what are 5 benefits?" The vendor told him the benefits.
You can save the tax money against the purchase.
You will get free carry bag and save the money you pay for the carry bag in the big shop.
You can negotiate for the price here whereas you are paying the fixed price in the big shop.
All these products are fresh from my organic farm and good for your health.
He understood the benefits and gave the list of vegetables to the seller. He packed everything and handed it over to the man. 
He paid the bill and moved, but found that one benefit as told by the vendor was missing. So he asked the seller, "where is the fifth benefit?"
The street vendor smiled and pointed his finger at the small boy (cashier) sitting on the chair and said.
"He is my son and his both kidneys are damaged. I have not stretched my hands to anyone for his treatment. What you have given by buying the vegetables is also a charity. God will bless you for this help. This is your 5th benefit."
Read The Importance Of Honesty, Kindness And Integrity.
This story will help you understand the difficulties of poor small street vendors.
Always be helpful to someone who works hard to earn and has a need for it. 
Click To Tweet
Some small street vendors sell low-grade products at a cheap rate. But many small street vendors sell fresh products from their village at a reasonable price.
When we buy from big shops, we have to pay for carrying bags (shop name and details printed). This is a kind of free advertisement. Their bill shows you saved this much, but you save nothing.
In shopping malls and big shops, we always pay a fixed price without bargaining. Many times, we bargain with small street vendors, even though they quote a lower price than big shops. 
Pay correctly to small street vendors for their daily bread to feed their hungry children.
Click To Tweet
Conclusion
Think about the struggle and pain of street vendors to earn a little income to feed their hungry children and also to educate them. Many of them are doing this job avoiding their sickness, sitting in the rain and sun. They avoid their food during the day to save that much money for their kids. Help them educate their children. Help them feed their children.
What is your view about small street vendors?
If you found this post useful, please recommend and share to help others find it! You can easily share by clicking on the share buttons. Remember"Sharing is Caring!"
Feel free to leave your thoughts below.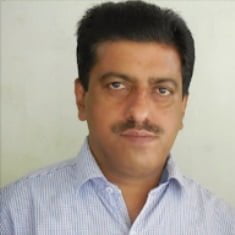 Mathukutty P. V. is the founder of Simply Life Tips. He is a Blogger, Content Writer, Influencer, and YouTuber. He is passionate about learning new skills. He is the Director of PokketCFO.
He lives with the notion of "SIMPLE LIVING, CREATIVE THINKING". He Believes – "Sharing is caring." and "Learning never ends."