(Last Updated On: October 3, 2023)
You know Priyanka Chopra as a remarkable actress and the illustrious winner of the Miss World 2000 pageant. Her beauty, talent, and charisma have left an indelible mark on the global entertainment industry. However, there's much more to Priyanka Chopra than meets the eye. Beyond her glamorous appearances on screen, there lies a captivating success story filled with resilience, determination and a relentless pursuit of excellence.
In this blog, we delve deep into the life and journey of Priyanka Chopra. We explore her remarkable activities, extraordinary achievements, and the wisdom she imparts through her inspiring quotes. Whether you're a fan of her work or simply seeking inspiration from an incredible success story, you've arrived at the right place. Let's embark on a journey to uncover the layers of Priyanka Chopra's remarkable success and discover the lessons we can learn from her incredible life.
About Priyanka Chopra?
Priyanka Chopra is a renowned Indian actress, singer, film producer, and philanthropist who has made a significant impact in the entertainment industry, both in India and internationally. Born on July 18, 1982, in Jamshedpur, India, Priyanka Chopra has achieved remarkable success in her career and is known for her versatility, talent, and beauty.
Here are some key highlights of Priyanka Chopra's career and achievements:
Miss World 2000: Priyanka Chopra gained international recognition when she won the prestigious Miss World pageant in the year 2000. This marked the beginning of her journey into the world of fame and entertainment.
Acting Career: Priyanka Chopra made her acting debut in the Bollywood film industry with the 2002 film "Thamizhan." She went on to act in numerous successful Bollywood films, including "Fashion," "Dostana," "Bajirao Mastani," "Mary Kom," and "Don," among others. Her performances have earned her critical acclaim and several awards.
Hollywood Breakthrough: Priyanka Chopra made her foray into Hollywood with the television series "Quantico," where she played the lead role of Alex Parrish. Her performance received widespread acclaim, and she became the first South Asian woman to headline an American network drama series.
International Stardom: Beyond acting, Priyanka Chopra has expanded her career to include music, producing, and writing. She has released music singles and collaborated with international artists. Additionally, she has produced and acted in Hollywood films like "Baywatch" and "Isn't It Romantic."
Philanthropy: Priyanka Chopra is known for her philanthropic work. She has been associated with various causes, including education for girls, child rights, and disaster relief efforts. She is a UNICEF Goodwill Ambassador and has actively worked to support underprivileged children.
Author: Priyanka Chopra authored her memoir, "Unfinished," which offers insights into her life, career, and personal journey. The book received positive reviews and became a bestseller.
Global Recognition: Priyanka Chopra has received numerous awards and accolades for her contributions to the entertainment industry and her humanitarian efforts. She is considered one of the most influential and successful Indian actors in Hollywood.
Priyanka Chopra's career is a testament to her talent, determination, and ability to break barriers in the entertainment world. She continues to be an inspiration to many aspiring actors and artists, bridging the gap between Bollywood and Hollywood while using her platform to advocate for important social causes.
Priyanka Chopra – Top 10 Rules For Success
Create your own path
Love what you do
Don't limit yourself
Be true to who you are
Be willing to make sacrifices
Push yourself
Want it bad enough
Take risks
Be creative
Have fun
Watch this video to learn how to improve your life by analyzing your take on Priyanka Chopra's rules for success.
Priyanka Chopra's achievements
Priyanka Chopra's achievements span across various domains, including acting, music, producing, and philanthropy. Here are some of her notable achievements:
1. Acting Career:
Winner of the Miss World 2000 pageant, which catapulted her into the world of entertainment.
Successful Bollywood actress with critically acclaimed performances in films like "Fashion," "Bajirao Mastani," and "Mary Kom."
First South Asian woman to lead an American network drama series, "Quantico," gaining widespread recognition in Hollywood.
Acted in Hollywood films such as "Baywatch," "Isn't It Romantic," and "A Kid Like Jake."
2. Music Career:
Released music singles like "In My City" and "Exotic" that received international attention.
Collaborated with renowned artists, including Pitbull, will.i.am, and Nick Jonas, on music projects.
3. Producing and Writing:
Founded her own production company, Purple Pebble Pictures, which focuses on producing content in India and globally.
Co-produced films like "Ventilator," which won the National Film Award for Best Feature Film.
Authored her memoir, "Unfinished," which became a bestseller and offered insights into her life and career.
4. Philanthropy and Advocacy:
Appointed as a UNICEF Goodwill Ambassador, advocating for child rights and access to education for underprivileged children.
Supported various philanthropic causes, including disaster relief efforts and healthcare initiatives.
Active involvement in advocating for gender equality and women's empowerment.
5. Awards and Recognitions:
Recipient of several prestigious awards, including the National Film Award, Filmfare Awards, and People's Choice Awards.
Featured on Time magazine's list of the 100 most influential people in the world in 2016.
6. Global Influence:
Regarded as one of the most influential Indian actors in Hollywood, breaking down barriers and paving the way for other South Asian actors.
Named as one of Forbes' highest-paid television actresses and among the World's 100 Most Powerful Women by Forbes.
7. Cultural Ambassador:
Promoted Indian culture and cinema on the global stage, becoming a cultural ambassador and icon for Indian representation in international media.
Priyanka Chopra's achievements reflect her versatility, determination, and the impact she has made on both the entertainment industry and the world at large. Her journey from a beauty queen to a global superstar and humanitarian continues to inspire people around the world.
Priyanka Chopra Speaks On Breaking The Glass Ceiling
Conclusion
In conclusion, Priyanka Chopra's journey from a small town in India to becoming a global icon is nothing short of extraordinary. Her achievements across the realms of acting, music, producing, and philanthropy serve as an inspiration to millions. From winning the Miss World pageant to conquering the world of Bollywood and Hollywood, Priyanka has consistently broken barriers and shattered stereotypes.
Her dedication to her craft, resilience in the face of challenges, and unwavering commitment to philanthropy exemplify the qualities of a true trailblazer. Priyanka Chopra's impact extends beyond the silver screen as she uses her platform to advocate for important social causes, particularly in the realms of child rights, education, and gender equality.
As an accomplished actress, musician, producer, author, and humanitarian, Priyanka Chopra's story reminds us that with talent, hard work, and a compassionate heart, one can achieve greatness and make a meaningful difference in the world. Her journey serves as a beacon of hope and a testament to the boundless possibilities that await those who dare to dream big and chase their aspirations with unwavering determination. Priyanka Chopra's story is a reminder that success knows no bounds, and her legacy will continue to inspire generations to come
Priyanka Chopa Twitter | Facebook
Handpicked success stories for further reading
What aspects of Priyanka Chopra's success story captured your attention?
I appreciate your visit. I trust you found the post enjoyable.
Remember, Sharing Is Caring! Feel free to share this post on your social media and other networks to help others discover it.
Please share your thoughts and insights in the comment box below.
PVM
References: Wikipedia
Photo Credits – Fuzheado [CC BY-SA 4.0], via Wikimedia Commons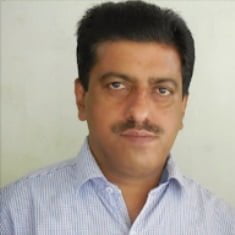 Mathukutty P. V. is the founder of Simply Life Tips. He is a Blogger, Content Writer, Influencer, and YouTuber. He is passionate about learning new skills. He is the Director of PokketCFO.
He lives with the notion of "SIMPLE LIVING, CREATIVE THINKING". He Believes – "Sharing is caring." and "Learning never ends."