(Last Updated On: December 2, 2022)
The COVID-19 pandemic is spreading a lot and hence concerned authorities are encouraging people to vaccination at the earliest. Many people have some questions about the COVID-19 vaccine. Let's try to address some of them. Dr Guleria, Director, AIIMS, Delhi answering the FAQs surrounding the COVID-19 vaccine.
FAQs Surrounding COVID-19 Vaccine – Dr Guleria
FAQs Surrounding COVID-19 Vaccine
/faq
Out of the multiple vaccines available, how is one or more vaccines chosen for administration?
The safety and efficacy data from clinical trials of vaccine candidates are examined by the Drug regulator of our country before granting the license for the same. Hence, all the COVID-19 vaccines that receive license will have comparable safety and efficacy.

However, it must be ensured that the entire schedule of vaccination is completed by only one type of vaccine as different COVID-19 vaccines are not interchangeable.
Can a person presently having COVID-19 (confirmed or suspected) infection be vaccinated?
A person with confirmed or suspected COVID-19 infection may increase the risk of spreading the same to others at the vaccination site. Also, we do not know how effective the vaccine will be in such a situation when one is already having an active infection. For this reason, infected individuals should defer vaccination for 14 days after symptom resolution.
Is it necessary for a COVID-19 recovered person to take the vaccine?
Yes, it is advisable to receive a complete schedule of COVID vaccine irrespective of past history of infection with COVID-19. This will help in developing a strong immune response against the disease.
If one is taking medicines for illnesses like Cancer, Diabetes, Hypertension etc, can s/he take the COVID19 vaccine?
Yes. Persons with one or more of these comorbid conditions are considered a high-risk category. They need to get COVID -19 vaccination. They must take the COVID-19 vaccination to protect themselves and it is important for them to understand that their medications will not interfere with the vaccine efficacy.
What about the possible side effects of the COVID-19 vaccine?
COVID Vaccine will be introduced only when its safety is proven. As is true for other vaccines, the common side effects in some individuals could be a mild fever, pain, etc. at the site of injection.

States have been asked to start making arrangements to deal with any Covid-19 vaccine-related side effects as one of the
measures towards safe vaccine delivery among masses.
How many doses of the vaccine would have to be taken by me and at what interval?
Two doses of vaccine, 28 days apart, need to be taken by an individual to complete the vaccination schedule.
When would antibodies develop? After taking the first dose, after taking the second dose, or much later?
Protective levels of antibodies are generally developed two weeks after receiving the 2nd dose of the COVID19 vaccine.
Does India have the capacity to store the COVID vaccine at temperatures of +2 to +8 degrees Celsius and transport them at the required temperature?
India runs one of the largest Immunization programmes in the world, catering to the vaccination needs of more than 26 million newborns and 29 million pregnant women. The programme mechanisms are being strengthened/geared up to effectively cater to the country's large and diverse population.
Read Is COVID Vaccine Second Dose So Important?
Conclusion
Hope that this article on FAQs surrounding the COVID-19 vaccine helped you to clear your doubts about COVID-19 vaccines. If you are not yet vaccinated, find a COVID-19 vaccination centre near your home, get vaccinated. Stay safe at home, avoid unnecessary travel or visiting neighbours. Use mask and hand sanitisers, and wash your hands with soap and water. Ensure self-protection from COVID-19 and family members. Help to control the spreading of the COVID-19 virus. In case of any suspected symptoms of health problems, contact the health department in your area and follow their guidelines.  You should learn to manage COVID19 isolation. Don't listen or spread fake news, learn coronavirus myth busters.
Recommended for further reading
Kindly share this article on your network and help others to read it.
Please leave your views about this article in the comments box.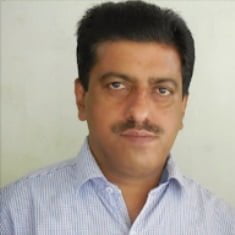 Mathukutty P. V. is the founder of Simply Life Tips. He is a Blogger, Content Writer, Influencer, and YouTuber. He is passionate about learning new skills. He is the Director of PokketCFO.
He lives with the notion of "SIMPLE LIVING, CREATIVE THINKING". He Believes – "Sharing is caring." and "Learning never ends."