(Last Updated On: December 2, 2022)
Cultural habits are changing across the world during the ongoing situation that has merged people into the novel Coronavirus (COVID-19). I found a video from Karolina Goswami, a famous YouTuber narrating about 5 Indian habits that the World wants to learn in the time of Coronavirus disease (COVID-19). I thought it is good to share the information because as a proud Indian, I am happy to notice that a foreign lady is saying good about Indian culture and habits.
5 Indian Habits That The World Wants To Learn | Karolina Goswami
The habit of kissing or shaking hands is discouraged in many countries. Instead of those habits encouraging people to greet one another by doing the Indian habits of NAMASTE is also being seen. However, there are many cultural habits in Indians that the global community may find interesting.
Coronavirus impact: World leaders ditch handshakes, hugs, and kisses for Indian 'Namaste'. This link will show you the news and photos of world leaders greeting each other with 'NAMASTE'
People photo created by yanalya – www.freepik.com
WHO and health department is advising to keep distance and good hygiene as the best and only solution to control the spreading of COVID-19. Namaste, the Indian way of greeting a person is good, but today India is also following many western cultures. Many Indians greet with a handshake and hug (stopped in the time of COVID-19)
Karolina Goswami is not an Indian, but she is making videos about India based on her experiences during her visit to different parts of India.
In her YouTube Channel, India In Details about section she says " A few years ago, I left a promising career to start a social media channel because I wanted to challenge the common media stereotypes of India."
I have written the script of the video for helping people who have difficulty watching the video. I strongly recommend you to watch the video in which she is explaining in detail.
1. Drinking water from a bottle (Indian Habits)
Many years ago when I first came to India I got a good surprise when I saw Indians drinking water from bottles without allowing their lips to touch the mouth of the bottle.
If you have never done this before, be careful because if you are not used to drinking water like this, you may even choke. But if you take it easy and do it slowly, it is not that difficult.
Now, this may reduce the probability of transmission of infectious agents in saliva. Still, if your hands are carrying some infectious agent as you touch the bottle and if others touch it later you may still end up passing on the infection to others.
Drinking water from bottle or glass without touching the lips on the mouth of bottle or glass is a method used in public places. Otherwise, people drink water or other liquids the normal way.
2. Taking a shower after attending a funeral – Indian habits
Another cultural habit that I learned in India is the practice of taking a shower after attending a funeral and until one does that one is not even allowed to sit anywhere or touch anyone else in the house. If the deceased had some infectious disease, this would make sense. However, more studies and research should be done to explore these aspects of Indian culture so that we can reach more accurate conclusions.
Taking a bath after attending a funeral is strictly followed by many people from different places and communities. But there are people who don't follow this system because of their culture and belief.
3. Keeping shoes outside the main entrance
If you visit a traditional Indian house you may notice that shoes are strictly placed outside the main gate. It is not allowed to bring them in.
Also washing hands after you touch your shoes and washing your feet after you take them off is recommended. There is a study that supports this practice Dr. Charles Gerba, Microbiologist and Professor at the University of Arizona discovered large numbers of bacteria both on the bottom and inside of shoes.
UA microbiologist Charles Gerba cheerily explains billions of nasty microbes await you every day.
These days keeping shoes outside is very common not only in the house but also in offices. In many offices and Banks, only the office staff will enter inside with shoes and all the customers keep their shoes outside the gate.
Kissing a sacred object
I have also noticed that endemic Indian traditions the practice of kissing a sacred object is also mostly absent. For example, kissing the holy cross is a common practice in many Christian gatherings. It doesn't hurt to adopt the good habits of Indians. Does it? Likewise, Indians may also adopt good practices from the West.
Some faithful touch and kiss sacred objects. None can challenge the belief of others. Due to COVID-19, it is not allowed to touch or kiss sacred objects.
Immune-boosting food in the traditional Indian kitchen
And by the way, if you browse through the research-based articles on immune-boosting food you will see a lot of them present in the traditional Indian kitchen. After all, we finally understand that Indian food is not only about chilli, various spices that are used in traditional Indian cuisine are full of antiviral and antibacterial properties.
India produces plenty of vegetables and spices. Many Indians, some communities, are vegetarians. Many seasonal fresh vegetables are available. Some people eat a lot of leaf vegetables and raw vegetables enriched with fibre. Many types of fish from ponds, river and sea are available. You can find most non-vegetarians are more interested in fish rather than meat products. All these immune-boosting foods and mood-boosting foods are regularly available in Indian kitchens.
Yoga and meditation
The Indian traditions can also be useful if you are facing the situation of a lockdown. The yoga and meditation can help you stay fit and mentally stable while you remain isolated and it can also help you in avoiding the risk of the transmission of infectious agents through the gym equipment.
Yoga and Meditation have become very common now. Many centres have opened and even on the public ground people are practising in the morning. This is good for physical and mental health.
Praying at home
If you are a religious person instead of having a mandatory Sunday visit to the church you may consider praying at home in their traditional system. Hindus do not have to have any compulsory temple visits. They have their tiny temples within their home.
It may not be compulsory to attend temples on Sundays, but many people visit temples on Sundays. Some people, especially ladies, visit temples daily in the morning and evening. Before going to temple, they take a bath and carry worship materials with them. Hygiene is very important to them. Christians attend the church every Sunday and in some parts of India, many people attend the Holy Mass in the church every day. Other communities also have their days and time of worship. Every day in the morning and evening family prayer is a must in every home. This is a normal system in India and not just because of COVID-19 lockdown.
Don't forget to visit the WHO official webpage for accurate information and to get familiarised with the latest updates regarding the whole situation.
Conclusion
As I have mentioned in the beginning, I wrote this post based on the video of Karolina Goswami about Indian habits. The transcript of her findings is in black letters. Paragraphs in blue background and white texts are my personal views from my knowledge. As you know India is a big country with many religions, communities and cultures. Different parts of the same state have a different systems. India is a good country with many good habits being followed since ancient times. The new generation is attracted to western culture, still, most people are following the Indian culture. Unity and harmony among people are visible everywhere except in some small incidents. Many world leaders and health departments are praising the measures taken by India to fight against the pandemic COVID-19.
Posts Related To COVID-19
India ramps up efforts to contain the spread of novel coronavirus
Let's join hands together with all the health departments and concerned authorities to fight against the novel Coronavirus (COVID-19) and remove it from the world.
Share this post to spread awareness and help others to read.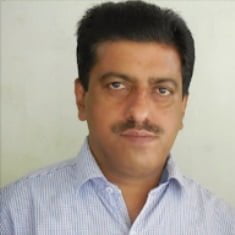 Mathukutty P. V. is the founder of Simply Life Tips. He is a Blogger, Content Writer, Influencer, and YouTuber. He is passionate about learning new skills. He is the Director of PokketCFO.
He lives with the notion of "SIMPLE LIVING, CREATIVE THINKING". He Believes – "Sharing is caring." and "Learning never ends."