(Last Updated On: July 7, 2022)
Are you facing distractions while studying and find it difficult to focus on your studies? Distractions are not good for the study because you will lose concentration on your studies. Do you like to learn how to tune out distractions and focus on your studies to achieve success? In this article, you can find simple ways to tune out distractions and make you concentrate only on your studies.
How To Focus On Studies?
Many students have distractions and are unable to focus on their studies. The following steps and videos will show you how to regain focus if you get distracted, and how to set yourself up for focused success.
How to study smarter not harder and focus on your studies?
This motivational video Study smarter not harder explains how to study well and gives the motivation to study smarter for success.
Do you have a laziness problem?
Read how to overcome laziness while studying
Tips to tune out distractions and focus on studies
1. Set a goal
Set your study goals and start with the basics. Find a strong motivation to study, such as a goal to achieve which will help to restore your focus whenever you wander.
Goal Related Posts
2. Make a study timetable
Prepare a weekly study timetable. Set a routine for everything. Your timetable should include bedtime, mealtime and most importantly the time you should spend on your studies. Sleep well and have your day scheduled.
3. Find the right place to study
Picking the right place to study is very important because it has a major influence on the level of concentration and efficiency of the learning process.
Find a quiet place with good lighting and ventilation, preferably without a television, a computer, or a cell phone within your reach. Try staying away from social media.
Turn off all electronic devices. Studying in a closed room will help to boost your productivity and eases any distractions.
4. Find a study partner
Find a sensible, smart, and dedicated study partner on the same task who doesn't mind teaching.
5. Regular breaks
Regular breaks are essential to maintaining a high level of concentration. Your brain needs time to recharge after it processes a bunch of information.
Break down the study times into smaller chunks of time. Whenever you feel tired while studying, get up, and do some physical activity for a few minutes.
If possible, go out walking for a few minutes, else at least walk up and down the stairs or walk around in the room. Do whatever you can do to get tiredness away.
6. Don't panic
Don't overthink the actual study process or worry about the time you have wasted. Spend that time reviewing the portions you feel least confident about.
Do revision regularly and don't leave your revision to the last minute of the examination. Don't view studies as something compulsory or just something you need to do to get a good result.
7. Examinations
Try to avoid games, phones, and computers during the examination period, and have plenty of rest and sleep before the day of the examination.
Find Easy Ways To Get Better Sleep At Night
Once you finish studying one topic take small practice tests on your own or with friends.
[bctt tweet="There is no limit to the power of the human mind." username="simplylife_tips"]
The mind is just like a shining sun which can produce fire provided its energies are focused and directed towards a single point.
Power of focus for students – Focus on studies
Watch this motivational video talk by Sandeep Maheshwari. He is a very famous motivational speaker explaining things in simple language and always with a smiling face. He is an inspiration for the youth.
Read Sandeep Maheshwari Success Story And Biography
Unwanted stress can have negative effects on your physical and mental health, which in turn will affect your concentration levels.
[bctt tweet="Always remember that whatever you study will improve your intellect and make you knowledgeable." username="simplylife_tips"]
Never Stop Learning | Update Your Knowledge
Conclusion
Study for yourself, not for others. Do not succumb to any unwanted pressure from your tutors, parents, or relatives. You should definitely make them proud of your achievements, but that should not be the ultimate goal of your studies. Try to tune out distractions and focus on your studies.
What steps you are taking to tune out distractions and focus on your studies?
Feel free to share your views in the comment box below.
"Sharing is Caring!" Don't forget to share the post.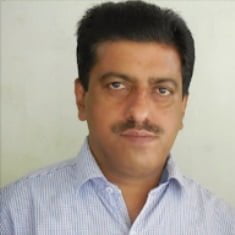 Mathukutty P. V. is the founder of Simply Life Tips. He is a Blogger, Content Writer, Influencer, and YouTuber. He is passionate about learning new skills. He is the Director of PokketCFO.
He lives with the notion of "SIMPLE LIVING, CREATIVE THINKING". He Believes – "Sharing is caring." and "Learning never ends."