(Last Updated On: June 23, 2020)
Do you know how Jack Ma, founder of Alibaba faced challenges and overcame obstacles to become successful? Jack Ma's success story, Biography, Quotes and top 10 rules for success are motivational. His speeches are powerful and inspiring.
Jack Ma – Top 10 Rules For Success
Get used to rejection
Keep your dream alive
Focus on culture
Ignore the LittleMan
Get inspired
Stay focused
Have a good name
Customers are #1
Don't complain, look for opportunities
Have passion
Watch the video to hear his inspiring and powerful words
Above Rules and video source: Youtube
Who Is Jack Ma?
Jack Ma is a Chinese business magnate who achieved major success.
He became a billionaire by founding Alibaba group, a family of successful Internet-based businesses.
He started his business with $20,000 that his wife and friend helped him raise.
He is the first mainland Chinese entrepreneur to appear on the cover of Forbes.
Jack Ma – Success Story
Jack Ma, or Ma Yun (Chinese: 马云; [mà y̌n]; born 10 September 1964), is a Chinese business magnate, investor, politician and philanthropist. He is the co-founder and executive chair of Alibaba Group, a multinational technology conglomerate. Ma is a strong proponent of an open and market-driven economy.
A prominent business figure, Ma is seen as a global ambassador for Chinese business and as such is frequently listed as one of the world's most powerful people by Forbes. He also serves as a role model for startup businesses.
In 2017, he was ranked second in the annual "World's 50 Greatest Leaders" list by Fortune. On 10 September 2018, he announced that he will retire from Alibaba and pursue educational work, effective in one year, with Daniel Zhang succeeding him as executive chairman.
He applied ten times to Harvard Business School (HBS) and got rejected. As of June 2019, he is one of China's richest men, with a net worth of $35.6 billion, as well as one of the wealthiest people in the world and also was ranked 21st in Forbes' World's Most Powerful People. Source : Wikipedia
Jack Ma Success Story – Failure To Success
This video clearly shows his inspiring success story
Conclusion
From handling multiple failures to achieving enormous success in his life, the success story of Jack Ma proves that hard work and dedication can change a person's fortune.
Recommended success stories for reading
What are the points attracted you from his success story and rules?
Share the post on your network to help others to read this inspirational success story.
Feel free to share your views in the comment box below.
Photo Credits – Foundations World Economic Forum [CC BY 2.0], via Wikimedia Commons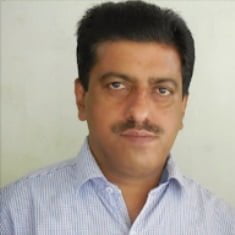 Mathukutty P. V. is the founder of Simply Life Tips. He is a Blogger, Content Writer, Influencer, and YouTuber. He is passionate about learning new skills. He is the Director of PokketCFO.
He lives with the notion of "SIMPLE LIVING, CREATIVE THINKING". He Believes – "Sharing is caring." and "Learning never ends."