(Last Updated On: June 28, 2023)
Meet Radha Mani Amma, a remarkable 72-year-old woman from Thoppumpadi near Kochi, Kerala. Radhamani driver defies the notion that age limits our abilities, showcasing her prowess in driving an impressive range of vehicles. With licenses for 11 different classes of vehicles, Radha Mani Amma navigates everything from lorries to buses to JCB cranes. Her passion for driving has paved the way for her to accomplish extraordinary feats.
Radhamani Driver 72 Yr Old Lady
Radhamani, affectionately known as Mani Amma, hails from Kerala and holds a remarkable distinction. At the age of 72, she proudly stands as the only woman in India authorized to operate 11 different vehicles.
Radhamani Amma, a 72-year-old resident of Thopumppady in Kochi, is breaking barriers and proving that age is never a limitation. With licenses to operate 11 classes of vehicles, including lorries, buses, JCB cranes, trailers, forklifts, road rollers, two-wheelers, and autos carrying petroleum products, she has mastered an impressive range of transportation.
Her journey began with the unwavering support of her husband, who established a driving school in 1978. From the moment the school opened its doors, Her journey in the driving field began when her husband, Lalan, motivated her to learn to drive. Radhamani eagerly embraced the opportunity to learn to drive, eventually igniting a deep passion within her. Lalan had previously run A to Z driving school in Kochi during the 1970s. Tragically, after Lalan's passing in 2004, Radhamani Amma took over the driving school, becoming its driving force and continuing his legacy.
In an era when women venturing into driving was rare, Radhamani fearlessly embarked on her path. Starting with mastering the art of driving buses and lorries, she steadily expanded her repertoire. With time, she acquired the skills to operate cranes, trailers, forklifts, road rollers, and even JCBs, procuring licenses for each vehicle along the way. Her dedication and determination knew no bounds.
Among the vehicles she handles, Radhamani Amma finds JCB cranes the most challenging. However, her remarkable driving skills have garnered attention and accolades. But she doesn't stop there. At the age of 72, she is currently working towards obtaining a diploma in automobile engineering, further expanding her knowledge and expertise.
Radhamani Amma's impact extends beyond her personal achievements. She runs a motor school, established in 2014, that trains individuals to drive heavy vehicles. This groundbreaking initiative was the first of its kind in Kerala, setting a new precedent and opening doors for aspiring drivers.
Radhamani's pursuit of knowledge extends beyond the realm of driving. Alongside managing the computer operations at the driving school, she has embarked on a remarkable educational journey. Currently enrolled in a diploma course in mechanical engineering at Kalamassery Polytechnic, she defies conventional expectations and showcases her determination to broaden her horizons.
Notably, Radhamani stands out as a rarity in Kerala, and possibly in all of India. She holds licenses for an astounding 11 categories of vehicles, an achievement that sets her apart as a trailblazing woman driver. Surprisingly, she obtained her two-wheeler license relatively late in her driving career, adding another layer of uniqueness to her story.
Radhamani's passion for driving coupled with her ongoing pursuit of knowledge exemplifies her relentless spirit and the boundless possibilities that lie ahead.
Not only is Radha Mani expanding her own horizons, but she also dedicates herself to mentoring several young women. Recognizing the abundance of job opportunities available abroad for those skilled in operating heavy vehicles, she guides and empowers these aspiring drivers. Radha Mani's invaluable expertise serves as a gateway to a promising future for these ambitious individuals.
Words Of Radhamani Driver
"I initially began driving a four-wheeler because my husband was interested in it. Later, when driving school started, we needed a heavy licence, and that's how I obtained it. I am the first person to open a heavy driving school in Kerala. As it started under my name, I had to obtain a heavy vehicle licence before gradually acquiring two three-wheelers licenses. I began obtaining equipment licences in 2014, including those for a road roller, tractor, crane, and forklift," says Radhamani Amma.
72-Year-Old Radhamani Driver From Kochi Can Drive 11 Types Of Vehicles
Conclusion
Her inspiring journey as Radhamani Driver demonstrates that age is no barrier to pursuing dreams. Despite the initial mockery, she has proven that determination and passion can overcome obstacles. Radhamani Amma not only serves as a teacher and mentor to aspiring drivers but also empowers young women, highlighting the job opportunities available to them in the field of driving.
Radhamani Driver's story is one of resilience and perseverance. It challenges preconceived notions and inspires others to pursue their goals relentlessly. As she continues to break stereotypes and push her limits, her unwavering spirit serves as a reminder that there are no boundaries when it comes to achieving one's dreams, regardless of age.
Delisha Davis 24-Yr-Old Kerala Woman Fuel Tanker Driver
Did you like the inspiring story of Radhamani Driver?
Thank you for your visit.
Don't forget to share it.
Leave your comments in the box below
PVM
References: The Better India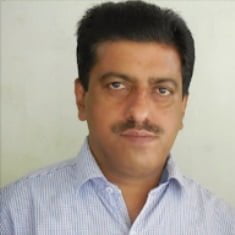 Mathukutty P. V. is the founder of Simply Life Tips. He is a Blogger, Content Writer, Influencer, and YouTuber. He is passionate about learning new skills. He is the Director of PokketCFO.
He lives with the notion of "SIMPLE LIVING, CREATIVE THINKING". He Believes – "Sharing is caring." and "Learning never ends."