(Last Updated On: October 7, 2022)
Do you know the names of planets and things found in space? Let's find out what the different types of planets and things are found in space. The video is made for kids and does not contain any details. I have added links to NASA and other sites below each image because I presume this article is helpful not only for kids but also for other science students studying in higher classes.
Names Of Planets For Kids
Solar System
Our solar system consists of our star, the Sun, and everything bound to it by gravity – the planets Mercury, Venus, Earth, Mars, Jupiter, Saturn, Uranus, and Neptune; dwarf planets such as Pluto; dozens of moons; and millions of asteroids, comets, and meteoroids.  Explore Our Solar System in Depth
Names Of Planets In Our Solar System
Click on the thumbnail to view full-size image
Dwarf
Conclusion
Hope you found the above information about the names of planets and things found in space useful. Some links from NASA are specially for Kids and other links are useful for students studying in higher classes. Links for kids to NASA space place are good because those pages contain many useful and fun activities, questions and answers and creative work. Kids can learn many things about the names of planets in depth.
Top 60 Famous Landmarks In The World For Kids' Learning
Thank you for your visit.
Don't forget to share it.
Leave your thoughts in the comment box below.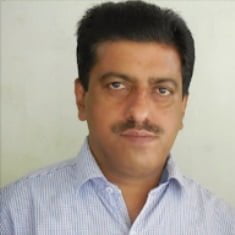 Mathukutty P. V. is the founder of Simply Life Tips. He is a Blogger, Content Writer, Influencer, and YouTuber. He is passionate about learning new skills. He is the Director of PokketCFO.
He lives with the notion of "SIMPLE LIVING, CREATIVE THINKING". He Believes – "Sharing is caring." and "Learning never ends."