(Last Updated On: June 28, 2023)
Hey kids! Did you know that there are super cool water vehicles? We've written an awesome post just for you! It's all about different types of water vehicles' names and their uses. In the video, you can listen to the amazing sounds they make. These water vehicles are not something you see every day, so get ready to learn something new!
In this article, we'll introduce you to different types of water vehicles. There are huge ships that can carry tons of stuff and have many people on board. Then, there are smaller boats that you might use for fishing or just cruising around a lake. Have you ever seen a ferry? It's like a big boat that can take you and your family to exciting places!
Water Vehicles Names
For thousands of years, people have been using water transport to travel across oceans, rivers, and lakes. In ancient times, civilizations like the Egyptians and Greeks used boats and ships to explore and trade with other lands. And guess what? We still use water transport today!
Water transport is important because it helps us move things from one place to another. Big ships called cargo ships carry all sorts of things like toys, clothes, and even food from one country to another. It's like a floating city on the water! We also have smaller boats and ferries that take people on fun trips and help them get across bodies of water.
But it's not just about what these vehicles look like. We'll also tell you about the sounds they make. Imagine the roar of a massive ship's engine or the splash of a boat gliding through the water. It's so exciting!
So, grab your parents and read this article together and also watch the video. They can show you pictures of all these amazing water vehicles, and you'll learn so much. Who knows, maybe one day you'll get to ride on a big ship or steer your own little boat! Get ready to dive into the wonderful world of water transport!
22 Water Vehicles Names
Battleship
A battleship is a large armoured warship with a main battery consisting of large calibre guns. It dominated naval warfare in the late 19th and early 20th centuries.
Sailboat
A sailboat is a wonderful water vehicle that uses the power of the wind to move across the water. It has a tall mast with a large sail attached to it. When the wind blows, it fills the sail and propels the sailboat forward. Sailboats come in various sizes, from small ones for one or two people to big ones for a whole crew. It's exciting to see the sailboat gliding gracefully on the water, and sailing in a sailboat can be a fun and adventurous experience!
Aircraft Carrier
An aircraft carrier is a warship that serves as a seagoing airbase, equipped with a full-length flight deck and facilities for carrying, arming, deploying, and recovering aircraft. Typically, it is the capital ship of a fleet, as it allows a naval force to project air power worldwide without depending on local bases for staging aircraft operations.
Cruise Ship
Cruise ships are large passenger ships used mainly for vacationing. Unlike ocean liners, which are used for transport, cruise ships typically embark on round-trip voyages to various ports of call, where passengers may go on tours known as "shore excursions". On "cruises to nowhere" or "nowhere voyages", cruise ships make two- to three-night round trips without visiting any ports of call.
Container Ship
A container ship (also called box-ship or spelt containership) is a cargo ship that carries all of its load in truck-size intermodal containers, in a technique called containerization. Container ships are a common means of commercial intermodal freight transport and now carry most seagoing non-bulk cargo.
Fishing Boat
A fishing boat is a specialized watercraft designed for the purpose of fishing. These boats are equipped with features and amenities tailored to the needs of anglers, such as fishing rod holders, bait wells, fish finders, and storage compartments for fishing gear. Fishing boats come in various sizes and types, including offshore fishing boats for deep-sea fishing and smaller, more manoeuvrable boats for inshore or freshwater fishing. They provide a platform for anglers to navigate waters, reach fishing spots, and pursue their passion for catching fish, whether it's for recreational purposes or commercial fishing operations.
Hovercraft
A hovercraft, also known as an air-cushion vehicle or ACV is an amphibious craft capable of travelling over land, water, mud, ice, and other surfaces. A hovercraft is a unique type of watercraft that hovers above the water or any other surface using a cushion of air. It is propelled by engines that create a high-pressure air cushion beneath the craft, allowing it to glide smoothly over land, water, ice, or other low-friction surfaces. Hovercrafts are known for their versatility and ability to traverse various terrains, including mudflats, marshes, and shallow waters. They are utilized for transportation, rescue operations, and recreational purposes, offering a thrilling and distinctive experience of floating and gliding effortlessly.
Inflatable Boat
An inflatable boat, also known as a rubber boat or dinghy, is a lightweight watercraft that can be inflated and deflated for easy storage and transportation. These boats are typically made of durable materials such as PVC or Hypalon and are buoyant due to air chambers. Inflatable boats are versatile and commonly used for various purposes, including recreational activities such as fishing, leisurely cruising, and even water sports. They are popular for their portability, affordability, and ease of use, making them accessible to a wide range of water enthusiasts.
Yacht
A yacht is a luxurious and stylish pleasure boat typically used for leisure and recreational purposes. Yachts are known for their elegance, comfort, and amenities, offering a high level of luxury and indulgence. They are often equipped with spacious cabins, lounges, dining areas, and sometimes even swimming pools and helipads. Yachts provide a private and opulent way to explore the open seas and coastal destinations, catering to those seeking a lavish and unforgettable experience on the water.
Speed Boat
A speedboat is a sleek and high-powered watercraft designed for fast and thrilling rides. With its powerful engine and streamlined design, a speedboat is built for speed and agility, making it perfect for water sports, racing, and leisurely cruising. Whether zooming across lakes, rivers, or coastal waters, a speedboat provides an exhilarating and adrenaline-pumping experience for those seeking excitement on the water.
Catamaran
A catamaran is a type of watercraft characterized by two parallel hulls connected by a deck or platform. It offers stability, speed, and spaciousness, making it popular for sailing, leisure cruising, and even racing. Catamarans are known for their efficient use of wind power and their ability to navigate shallow waters, making them versatile and enjoyable vessels for both recreational and professional use.
Submarine
A submarine is a remarkable watercraft capable of navigating underwater. It is designed to operate beneath the surface, utilizing ballast tanks and propulsion systems to control depth and movement. Submarines play critical roles in military operations, scientific research, and underwater exploration, offering the ability to explore the depths of the ocean and perform various missions while remaining hidden from view.
Raft
A raft is a simple and rudimentary watercraft made by lashing together logs, inflatable tubes, or other buoyant materials. It serves as a basic means of transportation or a platform for recreational activities on calm waters. Rafts offer a sense of adventure and a close connection with the water, making them an accessible and enjoyable option for floating, exploring, or engaging in leisurely activities with friends and family.
Steamboat
A steamboat is a historic watercraft propelled by steam power, typically using a large paddlewheel at the rear. These majestic vessels played a significant role in the early days of transportation and trade, navigating rivers and lakes with grace and elegance. Steamboats have a nostalgic charm and continue to be admired for their historical significance and unique craftsmanship.
Rowboat
A rowboat is a small, manually propelled boat that glides gracefully through calm waters, offering a peaceful and leisurely experience for exploring lakes and rivers.
Motorboat
A motorboat is a powered watercraft that utilizes an internal combustion engine to propel itself through the water, providing speed and efficiency for various recreational and transportation purposes on both lakes and oceans.
Jet Ski
A Jet Ski is a popular personal watercraft that combines speed, agility, and excitement. With its powerful engine and compact design, a Jet Ski offers thrilling rides as riders skim across the water, performing jumps, turns, and tricks, making it a favourite choice for water sports enthusiasts and adventure seekers.
Tugboat
A tugboat is a powerful and compact vessel specially designed for towing or pushing larger ships, barges, or other maritime structures. With its robust engine and manoeuvrability, a tugboat plays a vital role in assisting with docking, undocking, and guiding vessels through narrow channels, ensuring safe and efficient maritime operations.
Canoe
A canoe is a lightweight, narrow boat typically designed for two or more people, propelled by paddles. It provides a serene and immersive way to navigate calm waters, allowing enthusiasts to connect with nature, embarks on peaceful journeys, and enjoy the tranquillity of lakes, rivers, and streams.
Riverboat
A riverboat is a charming and nostalgic watercraft that sails along rivers, evoking a sense of romance and adventure. With its classic design and leisurely pace, a riverboat offers a unique way to explore scenic waterways, enjoying picturesque views and experiencing a touch of old-world elegance.
Response Boat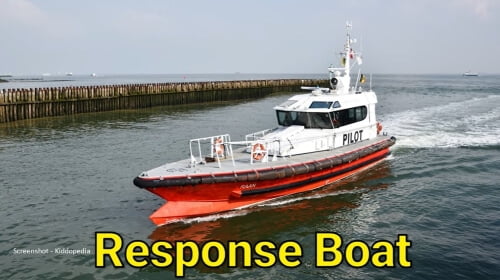 A response boat is a specialized watercraft used by emergency services and rescue teams to swiftly navigate through waterways, enabling them to reach and assist people in distress or respond to critical situations with speed, efficiency, and the necessary equipment onboard.
Ferry
A ferry is a larger vessel designed to transport passengers, vehicles, and sometimes cargo across bodies of water, such as rivers, lakes, or even seas. It provides a reliable and efficient means of transportation, connecting various ports and facilitating the movement of people and goods in a convenient and comfortable manner.
Water Vehicles Names And Sounds
In this video of kiddopedia, real videos and photos of water vehicles are shown to small children to teach them different types of sea vehicles names and sounds. 22 different sea vehicles names are presented with English pronunciation. Vehicle sounds in combination with videos is a perfect educational method for kids to improve construction vehicles vocabulary.
Conclusion
In conclusion, water vehicles offer a world of excitement and adventure for kids. From speedy speedboats to majestic yachts, each watercraft has its own unique features and purpose. Whether sailing on a calm river, zooming across waves, or exploring the depths of the ocean, water vehicles open up a world of possibilities for exploration, fun, and unforgettable memories. So hop on board, buckle up, and get ready for an incredible journey on the water!
Did you like the above post and video on water vehicles' names?
Thank you for your visit.
Don't forget to share it.
PVM
References: Wikipedia
Screenshot Credits: Kiddopedia (Screenshots are added for helping the kids to learn)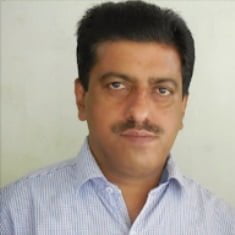 Mathukutty P. V. is the founder of Simply Life Tips. He is a Blogger, Content Writer, Influencer, and YouTuber. He is passionate about learning new skills. He is the Director of PokketCFO.
He lives with the notion of "SIMPLE LIVING, CREATIVE THINKING". He Believes – "Sharing is caring." and "Learning never ends."