(Last Updated On: July 1, 2021)
Everyone active on social media would have surely come across the video of 8-year old viral singer Ananya, crooning the famous Malayalam movie song 'Nee Mukilo' with great confidence. As you know, her mature soulful voice has gone viral within a short period and this little girl has become an internet sensation. You must have heard that Ananya, the fourth standard kid has received a surprising offer from the Malayalam music composer Bijibal to sing for his next Malayalam movie. The good news is that song is recorded. This post is about the inspiring story of the talented singer Ananya, a visually challenged girl.
Nee Mukilo – Viral Song By Singer Ananya
Nee Mukilo- UYARE film song singing by Ananya blind girl in her classroom. Her singing in the classroom went viral and many interviews done by TV News Channels and also she got a chance to sing the song Pulariyil Achante in the Malayalam movie 'Vellam' (water), starring famous Malayalam actors Jayasurya and Samyuktha Menon in lead roles.
Viral Singer Ananya 8 YO Blind Girl From Kerala
Ananya is a native of Varam, Kannur, Kerala, India. She is the youngest daughter of Pushapan and Prajitha. This talented singer is an upper-primary school student. 
Ananya is visually challenged since birth. Just 3 years ago her parents identified she has a flair for singing. While she was listening to a song on the radio, they found she started to hum and sing it without any flaws. Ananya's parents noted her talent and decided to give her proper training. Her parents encouraged their differently-abled daughter in singing and even sent her to learn music as well.
Ananya is a student at Kannur Model School for the blind and also learning music for the past one and a half year. She is visually challenged and also has difficulty with walking and hence it was a bit hard to take music classes in the normal way. Mr. Rakesh, her music teacher extended help and agreed to take special classes for Ananya at their home.
After her singing went viral on social media, she has been getting calls and messages from around the world for her talented voice. Athulya, her elder sister is very supportive and caring.
Read How Pranjal Patil (Visually Challenged Woman) Became An IAS Officer?
Ananya – Pulariyil Achante – Making Video| Vellam
Here comes the making video the song Pulariyil Achante from the movie 'Vellam – The Essential Drink',
Directed by Prajesh Sen,
Starring Jayasurya, Samyuktha Menon in lead roles.
Lyrics: Nidheesh Nadery
Music: Bijibal
Sung By: Ananya
Mastered by : Nandhu Kartha
Read Haroon Kareem T. K. Blind Student Wrote Kerala Class X Exam Using Laptop
Lesson for the parents of differently-abled children
The inspiring story of Ananya, visually challenged daughter, is a lesson for the parents of differently-abled children. Remember, God has created everyone with a purpose and vision. If you have a differently-abled child, don't feel sad. Identity the hidden talents in the child, encourage and support to become successful in life. Never discourage them, boost their self-confidence. If they fail, encourage and support to turn failure into success.
There are many Inspiring Talents Physically And Mentally Challenged in the world. The Almighty has given you a special child because God knows that child is safe in your hands. Think positive and take the pain to help the child. You can make the child
Conclusion
This is just the start of her journey. Little Ananya will soon earn a name as a popular playback singer. Her perfect tunes and unfeigned passion for music and also the support from her loving parents will make her life successful.
Related Inspiring Stories
"Sharing is Caring!" If you liked this article, kindly share it with your friends, relatives, and on social media.
Let me know your thoughts and suggestions in the comment box below.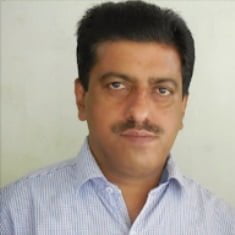 Mathukutty P. V. is the founder of Simply Life Tips. He is a Blogger, Content Writer, Influencer, and YouTuber. He is passionate about learning new skills. He is the Director of PokketCFO.
He lives with the notion of "SIMPLE LIVING, CREATIVE THINKING". He Believes – "Sharing is caring." and "Learning never ends."