(Last Updated On: August 2, 2020)
Do you know how Parveen Singhal, a village boy created the world's second-largest viral content company Wittyfeed?
What is Wittyfeed?
WittyFeed is the world's second-largest content company, proudly established and made in India. It is a "charticle platform for everyone who loves to express, read, write, and explore."
YouTube is a platform for all video creators to publish their videos on the net free of cost. WittyFeed is like the YouTube of modern-age bloggers wanting to write 'photo stories and listicles'.
[bctt tweet="Quality content is the king for any good blog to set up a brand name, more followers, and success." username="simplylife_tips"]
What makes WittyFeed really click with millions of readers across the globe is its hand-picked collection of viral content that's trending on the Internet.
Parveen Singhal is the co-founder of Wittyfeed. His message is:
"Don't stop dreaming, don't stop working!"
How Wittyfeed became the world 2nd largest viral content company?
Parveen Singhal and the other 2 co-founders started a Facebook page called "Amazing Things In The World."
Within just six months, the page had over a million followers. It carried, among other things, baby videos, jokes, nature and wildlife pictures, and inspirational videos. Then they started looking for ways to scale and monetize it.
Later they launched WittyFeed, India's largest viral content company and the world's second-largest in terms of traffic numbers.
Parveen Singhal sharing his journey, how he came from humble rural roots and decided to dedicate his life to making something big.
Dream big and work harder – Wittyfeed co-founder Parveen Singhal
Variety of topics and top quality content attractive and useful to visitors is the success of a blog.
WittyFeed publishes top quality content on a variety of topics, including lifestyle, entertainment, politics, sports, health, fitness, and celebrities.
Also publishes stories based on news, current affairs, videos, quizzes etc similar to viral content created by BuzzFeed or UpWorthy.
Conclusion
Hard work is very important for a successful life. It is not just your qualification, but your passion and hard work make you successful.
Recommended for further reading
Are you a content writer?
Are you inspired by the success story and inspiring talk of Parveen Singhal?
Feel free to share your views in the comment box below.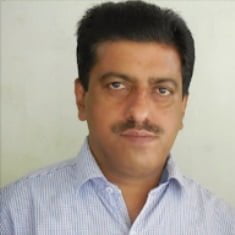 Mathukutty P. V. is the founder of Simply Life Tips. He is a Blogger, Content Writer, Influencer, and YouTuber. He is passionate about learning new skills. He is the Director of PokketCFO.
He lives with the notion of "SIMPLE LIVING, CREATIVE THINKING". He Believes – "Sharing is caring." and "Learning never ends."