(Last Updated On: October 22, 2022)
Are you aware of how your tone of voice affects children in negative and positive ways? In this article, you can find the impact of a pleasant tone vs a harsh tone of voice and why it is important to change your tones to mould behaviour. Your harsh voice will hurt your children and will affect their mental health. Your sweet voice makes them feel your love and affection and they will listen to your words and that will help them build up the good behaviour.
Tone Of Voice Affects Children
How your voice sounds and how you talk to your children have a tremendous impact on them. If the tone of your voice is harsh, in an angry mood, then most likely that will hurt the soft mind of your children. Children will have their guard up, they will not be good listeners and less likely to cooperate with you. When you have this habitual harsh voice, one of the worst things that happen is that you break the relationship little by little with your children. Do you want your relationship with your children is being broken? All parents wish to have a good relationship with their children because that is very important for happiness and unity in the family.
Never choose results over relationships
A healthy relationship between parents and children is more important than the results of getting your child finishing a lesson or your child getting ready and reaching school on time. Don't yell and scream and mystery the child just to get the excellent results that you dream of because in the end, what matters is the journey and not the destination. So it's really important that you work on your relationship with your children. Let Your Child Grow Self To Handle Life Independently
The tone of voice is very important
When talking with your children, your tone of voice is very important. You should have a gentle, low tone of voice that inspires children, makes them feel comfortable and makes them feel your love and affection so that they want to open up with you. That will make them cooperate, listen and work with you. You will see an enormous difference not only in your relationship but also in the way they talk to other people because children will use the same gentle voice. Sometimes you hear children with harsh voices. You might have wondered why they are talking in a harsh voice with you and also with others. Remember, it is just a reflection of the parent's voice passed on to your children.
Habitual harsh voice
Many parents don't realise their habitual anger, their habitual harsh voice that they constantly have throughout the days. It's something to realise and find the cause of it because you have to think about what is triggering that harsh voice. Is it the stress or fear that your child will not turn out to be successful? Is it your distractions? Being on your smartphone constantly, or being on television and then trying to work with your children really gets you upset and stressed out because the mind cannot do two things at once. In fact, many times, children get distracted from doing their work because their parents are distracted. When you're attentive and present with your child and you have a sweet, friendly tone of voice, your child will respond to that. Not saying everything is going to be perfect, but the child will respond.
How do you usually talk to your children?
Are you the person with the harsh voice, the habitual harsh voice?
Are you the person with a sweet, low tone?
Are you the person with the sweet low tone that sometimes does the harsh voice on certain days when you're stressed out?
Do you really need a harsh voice?
Many people think they need to use a harsh tone of voice to get their point across. Once you have got results using a harsh voice, that doesn't mean you cannot attain results using a gentle voice. When you have a sweet low tone of voice and you have your boundaries in place, the boundaries do the yelling; the boundaries set the discipline.
It's all about boundaries. It's not about your voice, it's not about how you treat people in ways to get them to do things. That's not how we do it. When you use this way of speaking in a low tone, you're going to benefit your children and transform them in ways that you would have never imagined. You are not only doing this for your children but also doing this for yourself because living in habitual anger is very harmful to your health.
Stress problems
When you're constantly living in a state of stress, you have high cortisol levels that affect your health in very negative ways. Chronic stress can cause insomnia, depression, high blood pressure, weight gain, and other physical and mental health problems. By changing your tone of voice from harsh to sweet, you will benefit from it a lot in your health and relationships. You can overcome stress through Simple Stress Management For Parents
Treat people how you would like to be treated by them.
Conclusion
Our tone of voice has a great impact on our life. When we talk in a harsh voice to our children, they are learning and follow the same tone in their life. Many parents do not realise the fact that parents are the first teachers to their children. Children learn many things by watching the activities and listening to the talk of their parents. When parents use harsh voices and bad words, children also learn the same thing. You might have noticed some small children speak bad words without even knowing the meaning because they will follow their parents and others in the family. Always try to control your tone of voice. Remember, your tone of voice affects children.
Recommended for further reading
Are you aware your tone of voice affects children?
Thank you for the visit. Hope you enjoyed your reading.
If you think this post will impact your life as well as others' lives, don't forget to share it.
Leave your thoughts and suggestions in the comment box below.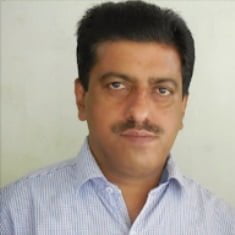 Mathukutty P. V. is the founder of Simply Life Tips. He is a Blogger, Content Writer, Influencer, and YouTuber. He is passionate about learning new skills. He is the Director of PokketCFO.
He lives with the notion of "SIMPLE LIVING, CREATIVE THINKING". He Believes – "Sharing is caring." and "Learning never ends."