(Last Updated On: July 1, 2021)
Have you heard the inspirational Sweta Agarwal, a grocer's daughter from Bhadreshwar, beat all odds to become an IAS Officer?
How Sweta Agarwal Beat All Odds To Become An IAS Officer?
It is difficult for poor parents and for parents with limited income to provide financial support for giving higher education to their children. Due to this problem, many brilliant children cannot fulfil their dream in life. They have to cut their education at a certain level and find a job to support their family. They have to sacrifice their visions and that keep a pain in their mind for many years even after they became parents of their children. Because their age must be over to study and fulfil their dream or they may have other family problems. This is the real life of many people.
UPSC Examination
Every year UPSC conducts examination for various civil services. UPSC examination is not at all an easy examination to crack, but it requires hard work and dedication. There are many candidates preparing for UPSC and there are many not able to clear the examination. As they prepare for the prelims most of the aspirants will have questions in their mind like how to become an IAS officer, what to study, how to study well, etc. Real stories about the strategies IAS toppers used to follow will help you stay motivated and study well choosing the best books and proper methods.
Here is the motivational story of Sweta Agarwal
Here is the motivational story of  Sweta Agarwal, a grocer's daughter from Bhadreshwar, West Bengal, who became the state topper by securing 19th rank in the civil services exam, 2016.
Sweta Agarwal shares her story of grit, determination and fulfilling a dream. She takes pride in saying her parents gave her the best of education despite battling abject poverty, realising her dream of becoming an IAS officer.
When newspapers hit the doorstep of her family home in the sleepy town of Bhadreshwar, she had made it to the front page. 'Daughter of Grocer tops state, clears UPSC with AIR 19' the headlines splashed.
Most people didn't know this was the third time Sweta Agarwal had cracked the competitive exam.
Sweta belongs to a middle-class family. She is the only child of her parents. Although her parents had the limited income, they tried the best they can give to support and educate their child.
Her father studied till class XIIth only. Her mother Prema studied till class Xth and after that, she got married.
In this Josh Talks video, she explains how one can become an IAS officer or what it takes to become an IAS Officer.
The Value Of Dreaming Big
"When you want something, all the universe conspires in helping you to achieve it." Paulo Coelho's famous words in The Alchemist

"The future belongs to those who believe in the beauty of their dreams." Eleanor Roosevelt'
These are just quotes for us, but to Sweta Agarwal, these words were an anthem, pinned at the desk of her study. An anthem she not only marched to but made true.

Sweta Agarwal's Message
I know a lot of people like me in the small towns and villages of India my message to all of you would be dream, dream big, back it up with your preparation and hard work and determination. There is nothing that can stop you from achieving your dreams because "the future belongs to those who believe in the beauty of their dreams". And "you really really want something all the universe conspires in helping you to achieve it." And this was the quote that is spent on my study desk 6 years back. Thank you.
Conclusion
Sweta Agarwal cleared the exam only by doing her own preparation and made everyone proud of her achievement. Her success journey and the strategies she used to follow during her preparation will give motivation and guidance to many aspirants. She is a brilliant example of consistency and patience.
Recommended for reading
What are the points inspired you from the story of Sweta Agarwal?
Do you know Sweta Agarwal or ever met her?
Have you ever attended the motivational talk of Sweta Agarwal?
Words of advice for civil service rankers
One request?
I've put so much effort writing this blog post to provide value to the visitors. It'll be very helpful for me if you consider sharing it on social media networks. Thanks for spreading the love with others. Remember " Sharing is Caring!"
Your valuable suggestions and comments will help to make my effort on this small blog a success.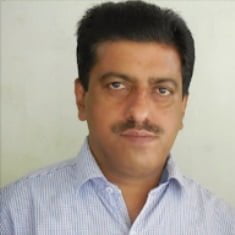 Mathukutty P. V. is the founder of Simply Life Tips. He is a Blogger, Content Writer, Influencer, and YouTuber. He is passionate about learning new skills. He is the Director of PokketCFO.
He lives with the notion of "SIMPLE LIVING, CREATIVE THINKING". He Believes – "Sharing is caring." and "Learning never ends."