(Last Updated On: November 8, 2023)
In a world filled with extraordinary individuals, Sudha Murthy stands out as a remarkable personality who has left an indelible mark on society. A philanthropist, author, and inspiration to many, Sudha Murthy's life journey is a testament to the power of compassion, determination, and a desire to make the world a better place. In this blog article, we will delve into the life and achievements of Sudha Murthy, a true icon of our times.
Sudha Murthy
Sudha Murthy is an Indian author, philanthropist, and social worker. She is the Chairperson of the Infosys Foundation, a not-for-profit organization focused on supporting various social and humanitarian causes. Sudha Murthy is also a renowned author, with many of her books being bestsellers in India. Her writing covers a wide range of subjects, including fiction, children's literature, and travelogues. She is known for her inspirational and thought-provoking writing. Besides her literary contributions, Sudha Murthy is highly regarded for her philanthropic work and efforts to improve the lives of the less privileged. She is a prominent and respected figure in India known for her dedication to social service and her ability to positively impact the lives of many.
What Is Sudha Murthy Famous For?
Sudha Murthy is famous for her contributions as an Indian author, philanthropist, and social worker. She is known for her literary works, her role as the chairperson of the Infosys Foundation, and her extensive philanthropic efforts in areas like education, healthcare, and rural development. Sudha Murthy is also renowned for her inspirational speeches and her commitment to social causes in India.
What Are The Qualities Of Sudha Murthy?
Sudha Murthy is known for her many admirable qualities, including:
Philanthropy: Sudha Murthy is a dedicated philanthropist who has made significant contributions to various charitable causes, especially in the areas of education, healthcare, and rural development.
Author: She is a prolific writer and has authored numerous books in English and Kannada, covering a wide range of topics, from fiction to social issues.
Social Work: Sudha Murthy has been actively involved in various social initiatives, particularly those aimed at improving the lives of underprivileged individuals and communities.
Leadership: She serves as the chairperson of the Infosys Foundation, where she leads the foundation's philanthropic efforts and plays a crucial role in implementing social projects.
Inspirational Speaker: Sudha Murthy is a sought-after motivational speaker, known for her ability to inspire and connect with people of all ages and backgrounds.
Empathy: Her work and writings reflect a deep sense of empathy and compassion for others, especially those in need.
Empowerment: Sudha Murthy advocates for the empowerment of women and children and believes in equal opportunities for all.
Humility: Despite her accomplishments, Sudha Murthy is known for her humility and grounded nature.
Role Model: She serves as a role model for individuals who aspire to make a positive impact on society and work towards the betterment of others.
Multifaceted: Sudha Murthy's qualities encompass a wide spectrum, from her literary talents to her leadership in philanthropy and social service.
These qualities have made Sudha Murthy a respected and admired figure in India and beyond.
Early Life And Education
Sudha Murthy was born on August 19, 1950, in Shiggaon, Karnataka, India. From a young age, she displayed an insatiable thirst for knowledge and a deep sense of empathy for those less fortunate. Her early education laid the foundation for her lifelong commitment to social causes. After completing her engineering degree from B.V.B. College of Engineering & Technology, Hubli, she pursued a master's degree in computer science from the Indian Institute of Science, Bangalore. Her academic achievements paved the way for her to enter the world of technology, but it was her innate desire to make a difference that would truly define her life's path.
Authorship And Literary Contributions
Sudha Murthy's foray into the world of literature began in the late '90s when she penned her first book, "Wise and Otherwise: A Salute to Life." Her storytelling prowess and ability to weave profound life lessons into her narratives quickly won her a dedicated readership. Over the years, she has authored several books, including novels, short stories, and children's literature. Her works explore a wide range of themes, from social issues to the human condition, and have been translated into numerous languages. Sudha's writing not only entertains but also inspires readers to think, reflect, and make positive changes in their own lives.
The Infosys Foundation
Sudha Murthy's philanthropic journey took a significant step when she co-founded the Infosys Foundation with her husband, N.R. Narayana Murthy. The foundation is renowned for its extensive work in various fields, including education, healthcare, rural development, and disaster relief. Under Sudha's leadership, the foundation has touched the lives of countless individuals, particularly in underserved and marginalized communities. Her dedication to uplifting the less privileged and providing them with opportunities for a better life is a testament to her unwavering commitment to social welfare.
Social Initiatives And Impact
Sudha Murthy's impact on society goes beyond the financial contributions of the Infosys Foundation. She actively engages with her philanthropic initiatives and often visits remote and impoverished regions to understand and address the needs of the people personally. From building schools and hospitals to providing clean drinking water and sanitation facilities, Sudha's work has transformed countless lives and communities. Her dedication to education and empowering the underprivileged is reflected in her tireless efforts to make quality education accessible to all.
Humanitarian Endeavors
Sudha Murthy's passion for philanthropy extends to a wide array of initiatives. The Infosys Foundation, under her stewardship, has been at the forefront of numerous projects that have made a profound impact on society. Some of these initiatives include building libraries in rural schools, providing scholarships to underprivileged students, supporting orphanages, and offering medical aid to those in need. Her commitment to healthcare led to the establishment of the Infosys Foundation Hospital, which offers quality medical services, especially in rural and remote areas where access to healthcare is limited.
Empowering Women
Sudha Murthy has always been an advocate for women's rights and empowerment. She believes that when women are empowered, they can create positive changes in their families and communities. Through various programs, she has supported women's self-help groups, vocational training, and entrepreneurship opportunities. Her dedication to gender equality and women's education is a cornerstone of her philanthropic work.
Awards And Recognitions
Sudha Murthy's exceptional contributions to society have not gone unnoticed. She has received numerous awards and honours for her outstanding work, including the prestigious Padma Shri and Padma Bhushan awards, two of the highest civilian honours in India. These accolades are a testament to her significant influence on social development and her remarkable achievements in various domains.
Inspiring The Youth
Sudha Murthy's life and work continue to inspire the younger generation. She actively engages with students and young adults, sharing her experiences and insights. Through her speeches, she encourages the youth to dream big, pursue their passions, and make a difference in the world. She emphasizes the importance of empathy, ethics, and social responsibility as key components of a fulfilling life.
Legacy And Enduring Impact
Sudha Murthy's legacy goes far beyond her lifetime. Her tireless efforts in philanthropy, literature, and women's empowerment have created a lasting impact on the fabric of Indian society. Her books continue to inspire readers of all ages, her foundation's work continues to uplift underprivileged communities, and her life story serves as a beacon of hope and determination for generations to come.
Sudha Murthy's Quotes To Live By
Sudha Murthy's life is a source of inspiration, and her words have resonated with countless individuals. Here are a few quotes that reflect her wisdom and vision:
"In the world, you will get everything according to your wish, not according to your worth. You may have a golden heart but you may still get a chocolate."
"You may not know where you are going, but as long as you spread your wings, the winds will carry you."
"Philanthropy, giving, and sharing is an eternal quest of human beings to make the world a better place. This is true in every culture, and every religion."
How Sudha Murty Convinced Her Son To Not Host A Birthday Party at a 5-star Hotel?
Conclusion
Sudha Murthy's life stands as a testament to the extraordinary impact a single individual can make in the world. Her journey from a small town in Karnataka to a global symbol of compassion and change is a vivid example of how dedication and a deep sense of purpose can transform society. Her selflessness, empathy, and unwavering dedication to others serve as a guiding light for those aspiring to create positive change. Sudha's legacy reminds us that one person's actions, driven by love and empathy, can have a profound and lasting influence, leaving a legacy for generations to come.
I appreciate your visit. I trust you found the post enjoyable.
Remember, Sharing Is Caring! Feel free to share this post on social media and other networks to help others discover it.
Please share your thoughts and insights in the comment box below.
PVM
References
Photo By Institution: President's Secretariat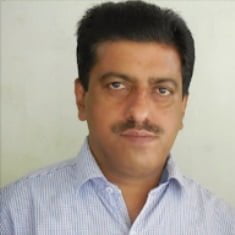 Mathukutty P. V. is the founder of Simply Life Tips. He is a Blogger, Content Writer, Influencer, and YouTuber. He is passionate about learning new skills. He is the Director of PokketCFO.
He lives with the notion of "SIMPLE LIVING, CREATIVE THINKING". He Believes – "Sharing is caring." and "Learning never ends."