(Last Updated On: June 28, 2023)
Welcome, young nature enthusiasts, to a fascinating adventure into the world of the slowest animals in the world! While some creatures zoom and dash through life, there are remarkable beings that have mastered the art of taking it slow. From gentle giants to slimy crawlers, these animals have captivated scientists and animal lovers alike with their leisurely lifestyles. In this exciting blog post, we'll dive into the enchanting world of the slowest animals in the world uncovering their unique adaptations and discovering the wonders of their unhurried existence. So, let's embark on this journey together and uncover the secrets of the slowest animals in the world.
Top 10 Slowest Animals In The World
The animal kingdom is like a big playground, filled with creatures that can zoom and zoom! Imagine cheetahs, whooshing at an amazing 75 miles per hour, or peregrine falcons, diving super-fast at over 200 miles per hour. But hey, not all animals are made for speed. Some of them are masters of slowness, moving at such a snail's pace that you might think they're not moving at all! These slow-moving critters are pretty special because they've found clever ways to survive in their own unique way. So, let's go on an adventure and meet some of the slowest animals in the world!
Koala
Koalas are adorable and fluffy marsupials that come from Australia. They have a special diet that is all about eucalyptus leaves. These leaves may not be packed with lots of nutrients, but they sure have plenty of fibre! Koalas have cleverly evolved to have a super slow metabolism, which helps them save energy. That's why they move at a snail's pace. Most of their time is spent snoozing, resting, or munching on those yummy leaves.
Giant Tortoise
Giant tortoises are renowned for their slow and unhurried nature. They cover only a short distance, usually just a few kilometres per day. Their heavy shells hinder their speed, making it challenging for them to move quickly. These tortoises have a preference for strolling to their food during the morning or evening, while the rest of the day is mostly devoted to eating and resting in one place.
Three-Toed Sloth
The three-toed sloth, native to Central America, holds the distinguished title of being the world's slowest mammal. When it's on the ground, its movement is limited to just 2.4 meters in one minute. However, when it finds itself in its preferred treetop habitat, it can pick up the pace a bit, moving around 4.6 meters per minute.
Seahorse
The dwarf seahorse, a tiny species of seahorse, can be found in the Bahamas and certain parts of the USA. It has the unique characteristic of choosing a partner for its entire life. In terms of speed, it holds the record as the slowest fish in the world, moving at an incredibly leisurely pace of only 150 centimetres per hour.
Starfish
In the vast oceans, you can find various types of starfish that inhabit different regions. Some starfish dwell in cold waters, while others prefer warm waters. These fascinating creatures are not known for their speed. They move slowly by utilizing tiny tubes located at the bottom of their arms. With their unique crawling technique, starfish can cover a distance of approximately 15 centimetres in a single minute.
Garden Snail
Garden snails, along with slugs, have a unique way of moving. They squeeze their muscles to propel themselves forward, leaving a slippery trail behind. These snails possess a protective shell on their backs, providing them with a safe hiding place. This means they don't need to rely on speed to evade predators who might want to have them for a snack. When it comes to their pace, garden snails move at a leisurely speed of approximately 0.001 kilometres per hour. They prefer taking their time and enjoying their surroundings at their own slow and steady pace.
Sea Anemones
Sea Anemones, fascinating sea creatures, share a close kinship with jellyfish and corals. They display a captivating array of shapes and colours. Typically, sea anemones prefer to anchor themselves in one location, patiently awaiting the arrival of unsuspecting fish. Once within reach, the anemone uses its tentacles to capture its prey. Although primarily sedentary, sea anemones possess a remarkable ability to move. They glide along using a specialized structure known as a pedal disc, often referred to as their "one foot." However, their movement is exceedingly leisurely, covering just about one centimetre per hour. Their sluggish pace makes them a contender for being one of the slowest animals in the world.
Gila Monster
Gila monsters are venomous lizards that reside in the USA. They are large in size and have the capability to consume prey up to one-third of their own size. These reptiles spend a significant amount of time underground, where they store fat in their bodies. This adaptation allows them to hunt less frequently. When Gila monsters do engage in hunting, they can reach a top speed of 2.4 kilometres per hour. Despite being venomous, they pose no significant threat to humans unless provoked.
Slow Loris
The slow loris, a remarkably leisurely creature, is found in Southeast Asia and holds the distinction of being the only venomous primate on the planet. Despite its slow nature, it can cover a distance of up to 8 kilometres during nighttime activities. The slow loris utilizes its venom both for self-defence and to capture prey swiftly. By moving slowly, it evades detection by predators, but when necessary, it can strike with surprising speed and accuracy.
Banana Slug
Banana slugs, unlike their shelled counterparts, are shell-less and known for their slow movement. Surprisingly, they can even outpace garden snails. However, the banana slug itself exhibits a particularly sluggish pace, covering a mere 8 centimetres in one minute. This leisurely speed translates to just 0.48 kilometres per hour, emphasizing their unhurried nature.
If you are interested in animals, this is a great educational video for you. This instructive video will help learn about animals and their names for kids, babies, preschoolers, and kindergarteners.
Conclusion
As we come to the end of our exploration into the world of the slowest animals, we have discovered some truly amazing creatures that defy the need for speed. From giant tortoises plodding along with their heavy shells to banana slugs leaving a glistening trail behind, each animal has its own special way of embracing the slow lane.
Remember, being slow doesn't make these animals any less remarkable. In fact, their unique adaptations and unhurried lifestyles have allowed them to thrive in their environments. They have taught us valuable lessons about patience, resilience, and the importance of appreciating the world at a slower pace.
So, whether you find yourself rushing through life or taking things at a snail's pace, always remember the fascinating creatures we've explored today. Slow down, observe the world around you, and embrace the beauty of nature's slowest wonders. Keep exploring and never stop marvelling at the incredible diversity of life on our planet!
Recommended for further reading
Did you like the post about the slowest animals in the world?
Thank you for your visit.
Don't forget to share it.
PVM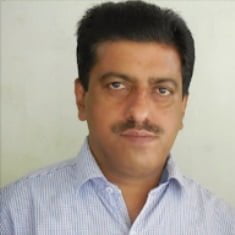 Mathukutty P. V. is the founder of Simply Life Tips. He is a Blogger, Content Writer, Influencer, and YouTuber. He is passionate about learning new skills. He is the Director of PokketCFO.
He lives with the notion of "SIMPLE LIVING, CREATIVE THINKING". He Believes – "Sharing is caring." and "Learning never ends."