(Last Updated On: June 28, 2023)
Despite facing numerous challenges along the way, Sherin Shahana, hailing from Wayanad, displayed immense resilience and determination in securing the 913th position in the 2022 Civil Services Examination. Her journey was marked by tenacity as she overcame obstacles to achieve this remarkable feat. Sherin's achievement serves as a testament to her unwavering spirit and serves as an inspiration to others who may encounter hardships in their pursuit of success. Her dedication and perseverance have undoubtedly positioned her as a shining example of triumph over adversity. While lying in a hospital bed in Perintalmanna, in Malappuram district, Sherin Shahana received the uplifting news on Tuesday that she had successfully cleared the Civil Service exam.
Inspiring Story Of Sherin Shahana
Sherin Shahana, a 25-year-old individual hailing from Kampalakkad Thenootikallingal, faced a life-altering incident five years ago. While collecting dried clothes from the terrace of her house, she tragically slipped and suffered a severe spinal fracture. This incident left Sherin confined to a wheelchair, with complete immobility in her lower body and 70% hand function.
In the midst of her physical challenges, Sherin endured the loss of her father and subsequent financial hardships faced by her mother, Amina, and sister, Jalisha Usman. Together, they demonstrated remarkable strength and resilience, ensuring Sherin received the necessary treatment and rehabilitation.
Academic
Despite the adversities she faced, Sherin displayed unwavering determination in pursuing her academic goals. Coming from a financially disadvantaged background, she pursued her studies up to post-graduation in political science through government schools and colleges. Her commitment to excel academically remained undeterred.
The journey towards Civil Services Exam
Sherin's pursuit of her civil service dream was marked by her tenacity. Despite her physical limitations, she sought coaching from Kozhikode and Thiruvananthapuram, while also utilizing online courses for added convenience. To aid her during exams, Sherin utilized the assistance of a scribe.
In her journey towards the civil service examination, Sherin received interview training from the Perinthalmanna Hyderali Shihab Thangal Civil Service Academy. Furthermore, she had the privilege of being part of the inaugural batch of the 'Chitrashalabham' project at the Absolute IAS Academy, which further enhanced her preparation.
Sherin's accomplishments extended beyond her exam preparations. She cleared the Political Science National Eligibility Test (NET) and secured the Junior Research Fellowship (JRF). Currently, she is pursuing a PhD program at Calicut University, demonstrating her unwavering commitment to academic excellence.
How To Prepare For UPSC IAS Exam And Stay Focused?
Lessons from Sherin Shahana
Sherin's resilience and determination shine through her journey, as she overcame numerous challenges. With her ability to adapt and her unwavering spirit, she serves as an inspiration to others, showing that determination and perseverance can help overcome even the most difficult circumstances.
Despite facing immense challenges, including a life-altering spinal injury, financial hardships, and the loss of her father, Sherin refused to let adversity define her. Through her unwavering spirit and resilience, she pursued her dreams of becoming a civil servant.
Sherin's story serves as an inspiration to all, reminding us that with unwavering determination and a strong will, we can overcome even the most daunting obstacles. Her pursuit of academic excellence, securing the NET and JRF in Political Science, and her enrollment in a PhD program at Calicut University are testaments to her indomitable spirit.
Sherin's story also highlights the importance of support and determination within a family. Despite the challenges they faced, Sherin's mother and sister stood by her side, providing love, care, and encouragement throughout her journey.
Gahana Navya James Of Kerala Bagged AIR 6th In UPSC 2022
Conclusion
In conclusion, Sherin Shahana's remarkable journey is a testament to the power of perseverance and determination. Sherin Shahana's achievements are not only a personal triumph but also a source of inspiration for others facing similar challenges. Her story reminds us that no matter the circumstances, dreams can be pursued and realized with unwavering determination, resilience, and the support of loved ones. Sherin's journey serves as a beacon of hope, showing that with perseverance, anything is possible.
Recommended for further reading
Does Sherin Shahana's inspiring success story inspire you?
Thank you for your visit.
Don't forget to share it.
Leave your comments inn the box below
PVM
Featured Photo: Indiatimes
References: Indiatimes Asianet News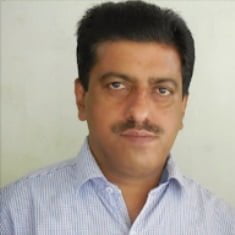 Mathukutty P. V. is the founder of Simply Life Tips. He is a Blogger, Content Writer, Influencer, and YouTuber. He is passionate about learning new skills. He is the Director of PokketCFO.
He lives with the notion of "SIMPLE LIVING, CREATIVE THINKING". He Believes – "Sharing is caring." and "Learning never ends."