(Last Updated On: July 5, 2023)
For many students studying may seem daunting. Learning is an important skill for school and for life. Do you know how to study more effectively to help you improve your grades and retain knowledge? There are some secret study hacks for success that winners use. Continue reading till the end to learn the secret study hacks for the fastest way to cover the entire syllabus and score the highest in exams.
10 Very effective study hacks
Let's get started with secrets, tips and hacks to perform best in your academics as well as to score the highest marks in your exams.
1. Well organise your study space
The first and foremost study hack is to keep your study space well-organised. If your desk is messy and unorganised you can't concentrate better. The most important is to keep your study space super clean and free of distraction. Why should you keep the study space organised? Because a clean and well-organised study space will help you to focus on your study materials better. It also provides you with enough space to spread your textbooks, notes and other study materials. Well-organised study space will save precious time in searching for books. Never waste time because time is precious and priceless. Make a habit of studying in the same well-organised place every day.
2. Stay away from distractions
The second study hack is to stay away from all types of distractions. Today, the covid19 pandemic forced us to start online classes. To attend online classes students have to use electronic devices. You should ensure that you are using electronic devices only for your studies and not for any type of entertainment.
Many students have a smartphone addiction problem which is a big distraction from their studies. Remember to turn off your phone and television when you are not using them for online study. While studying stay away from social media, email and other entertainments. Don't allow unwanted negative thoughts to disturb your mind. Focus only on your study to achieve success. Learn to beat digital distractions and focus on your studies.
3. Create and follow a timetable
The third study hack is to create and follow a timetable. A well-planned schedule is important for saving time and giving preference to important subjects. Creating a timetable helps to organise your study time schedules and your breaks. This is very useful when you have multiple subjects to study. Make sure to follow your timetable and avoid mixing up subjects. You can set reasonable limits for study time and breaks. Break your study session up into a manageable set of times.
4. Make a to-do list
The fourth study hack is to make a to-do list. Making a to-do list is a very important way of being systematic and organised. You can make a to-do list of all your activities to be finished. It can be on any particular subject, homework assignments or other work. When a particular work is finished just tick off the checklist and move to the next. This will really make you updated on each and every work and also you will not miss anything.
5. Use effective study techniques
The fifth study hack is to use effective study techniques. Using effective study techniques is very important for achieving a good score in exams. While reading a chapter just underline the important points. Make notes of your own by using some techniques such as one-word questions, multiple-answer questions, diagrams, flow charts etc. This practice will help you to score good marks in your exams.
6. Put yourself to the test
The sixth study hack is to put yourself to the test. Yes, you heard it right, you can do a test yourself. When you are done with a chapter you can get into the routine of practising question papers. You can take a small test paper on a particular topic which you have learned. Then check the answers by yourself. This practice will really help you to find the mistakes you have done and also will boost your self-confidence.
7. Become a teacher
The seventh study hack is to become a teacher yourself. Are you wondering how? You can become a teacher by explaining your answers to your friend who is not understanding that concept clearly. When you help your friend by explaining it in your own words you are learning it well. This is probably the best way to learn and gives you lots and lots of positive vibes and motivation. Train your mindset for mindset motivation.
8. Take regular breaks
The eighth study hack is to take regular breaks. After a few hours of study take a few minutes break. It helps your mind relax which can help you to remember more effectively and stay focused. During break time you can do some small physical activities, just go for a walk or some small entertainment. It should be just to refresh the mind only and nothing more.
9. Take care of your health
The ninth study hack is to take care of your health. Some students study a lot without eating enough food. A vehicle must be in good condition with enough fuel and tyre pressure to run smoothly. Your body and mind need enough energy to concentrate better and for a long period of study. You must follow a healthy diet for your body and mind to acquire the required energy. This can help you to fuel your studies and to help your brain run at full power.
Your diet should include protein-rich food, fruits, vegetables, nuts, seeds, memory-improving foods, mood-boosting foods and immunity-boosting foods. Avoid too much sugar or caffeine because that can interfere with concentration. Drink plenty of water because water is essential for brain function. Make sure you keep drinking plenty of water throughout your revision and also on exam days.
Read
Sleep well at night because good sleep is required for your body and mind to get refreshed. Reprogram your subconscious mind before you sleep. Good sleep improves your score because it will help you to improve your ability to think logically, improve concentration and keep your immune system strong. If you have a sleep problem, you can find easy ways to get better sleep at night.
10. Always believe in yourself
The tenth study hack is to always believe in yourself. Always believe in the success of your dreams and believe in your life's success. Never stop believing in yourself even for a second. You must trust in your abilities and your skills. Learn to overcome self-doubt. Stop negative self-talk. Have a positive attitude. Stop bad habits that destroy motivation.
Conclusion
If you follow these 10 effective study hacks you will see a major difference in your score, your grades and in your marks. These are only 10 selected study hacks. If you know more study hacks, you can share them in the comment. The most important thing is don't study only for getting the highest marks in the examination but to study for success in your life. Hard work with dedication is the only way to achieve success in life. Follow the secret study tips for success. You can also join study groups.
Related articles
If you liked this article, kindly share it with your friends, relatives and on social media to help them to read.
You are welcome to share your thoughts in the comment box below.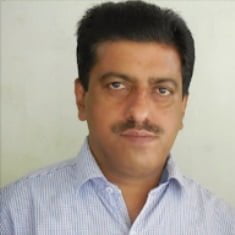 Mathukutty P. V. is the founder of Simply Life Tips. He is a Blogger, Content Writer, Influencer, and YouTuber. He is passionate about learning new skills. He is the Director of PokketCFO.
He lives with the notion of "SIMPLE LIVING, CREATIVE THINKING". He Believes – "Sharing is caring." and "Learning never ends."