(Last Updated On: October 22, 2022)
Are you worried about how to raise successful kids? You are not alone. All the parents want their kids to become successful in life but many don't know how to make their kids successful. Are you a parent among them? If yes, this post is for you. Continue reading to learn easy ways to raise your kids successful.
Is it possible to raise successful kids without over-parenting?
These days many parents are following a certain style of parenting. A kind of parenting that messing up kids, impeding the chances of kids to develop and grow into themselves. Why it is happening? Because parents are fearful to allow kids to take risks because they are not confident. They give more restrictions and punishments if kids don't follow their directions.
Most parents spend a lot of time, energy and money being very concerned about education, upbringing and successful lives of their kids. On the other end of the spectrum, there can be a lot of harm going on there as well due to over-parenting. Many parents have a wrong thinking that loading kids with high expectations and micromanaging their lives at every turn is important for their success in life.
Read How Overparenting Damage The Future Of Children?
Some parents have a wrong thinking that their kid can't be successful unless they are protecting and preventing at every turn. So they do hovering over every happening, and micromanaging every moment of activities, and steering their kid towards their directions and thoughts.
All parents want to keep their kid safe and sound. Parents want to be sure their kid study in the right schools, and they get the right grade, accolades and awards.
Is grades an important factor to raise successful kids?
Parents expect their kids to perform at a level of perfection and for that, they argue with teachers, coach and others. Some parents spend so much time with their kids nudging, hinting, helping, nagging etc as the case may be, to ensure that kids are not wasting their precious time and not ruining their future.
In the present education system, kids have to study a lot and do a lot of homework. They have no time for playing or relaxing. Every piece of homework, every activity is a make-or-break moment. Parents don't allow kids for helping out around the house, even don't allow or encourage them to do small activities like washing their own clothes. Some parents even don't allow them to get enough sleep and forced to wake up and study for good marks. When kids return from school, before allowing them to relax for a few minutes, many parents start questioning about their grades and homework.
Read How To Become A Better Parent?
Is it necessary to study in high-level schools?
Many parents have a wrong understanding that kids who study in high-level schools only can become successful in their life. It is true that some institutions are better than others because of the infrastructure and teaching methods. But that doesn't mean kids study in other institutions can't achieve success in life. Your kids worth comes not only from grades and scores, but also they live right up inside their precious developing minds all the time.
Self-efficacy
When you don't allow your kids to do small works, do homework on their behalf, you are sending a wrong message in their mind "I don't think you can achieve this without me." Self-efficacy is a really fundamental tenet of the human psyche which is far more important than the self-esteem your kids get every time you applaud. Over direction, overprotection and holding the hand every time deprive your kids of the chance to build self-efficacy. This also makes the kid unable to boost self-confidence, improve self-esteem and overcome self-doubt.
One's own actions lead to good outcomes and not through actions on one's behalf. Your kids have to do a lot of thinking, set goals, planning, making decisions, doing, hoping, coping, trials, overcoming obstacles, turning failures into the success of life for themselves. This is the only and best way of developing self-efficacy. Allow your kids to self-grow. To become a good driver, a person has to drive himself sitting alone in the vehicle. Allow your kids to experiment life and make it a success.
Read 8 Parenting Mistakes You Should Try To Avoid For Better Parenting
Role of parents to raise successful kids
This doesn't mean the parent's involvement is not needed for kids motivation. Do you agree that parents are the first and best teachers for their kids? You must help them in everything as and when needed, but allow them to become self-efficient. Ensure that they don't fell into any habits that destroy motivation. Parents should be less concerned with the specific institution kid might be able to apply and study and also about high scores and grades. Parents must be more concerned about their kids have good habits, growth mindset, good skill set and wellness to become successful in life. Teach your kids about the importance of kindness. Teach your kids self-protection to handle any situation.
Parents should be more interested in providing their kids with a foundation for their success built on things like love and chores and be a little less obsessed with grades and scores. Remember, physical punishment does not help to correct mistakes but will affect their mental health and development. Teach your kids the importance of self-discipline for a successful life. Help and encourage your kids to dream big.
Importance of love
True happiness in life comes from love. Happiness from work and money is temporary but love from family and others bring special happiness in the mind. Teach your kids how to love and how to grow self-love. They can't love others if they don't have self-love. If parents don't offer unconditional love to kids, they can't grow self-love.
How was the childhood of successful people?
When you read the inspiring stories of successful people, you can find that most of them studied in normal schools. Many of them are from poor family background, struggled a lot in their life. They faced many failures but never quit. They fueled by their own desire, capable and were ready to face challenges and achieve success.
Do you know how?
Read Habits Of Successful And Unsuccessful People
Conclusion
As a parent, your job is to provide a nourishing environment, to strengthen your kids through chores and to love them. Teach them to love others and receive love. Allow them to choose the right career as per their choice and skill. Do not force your kids to become what you wish them to become. Your job is to support them in becoming their glorious selves. Raise successful kids doesn't mean to make them rich, but make them good human beings.
What do you do to raise successful kids?
Do share the article on your network to help others to read.
Share your thoughts and views in the comment box below.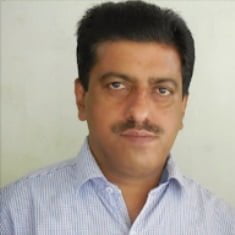 Mathukutty P. V. is the founder of Simply Life Tips. He is a Blogger, Content Writer, Influencer, and YouTuber. He is passionate about learning new skills. He is the Director of PokketCFO.
He lives with the notion of "SIMPLE LIVING, CREATIVE THINKING". He Believes – "Sharing is caring." and "Learning never ends."