(Last Updated On: October 22, 2022)
Are you feeling bad about your children often lying? Don't worry much about it. Do you speak lies to your child? Children learn many things from their parents. They listen to parents talk and watch their actions. For children what they hear and see from parents is correct and they follow the same. In this article, you can find easy and proven ways to stop your child from lying.
How To Stop Your Child From Lying?
There can hardly be anyone who has never told a lie in their entire life. In our daily life many times we meet liars. Sometimes we also tell lie depends on the situation.
When our own kids start telling lie we don't know what to do. When children lie their parents feel guilty about it.
Your behaviour in certain situations may also influence your child to hide the truth and forced to lie
Click To Tweet
First of all, you should find the reason why your child is lying. When you found the root cause of the lie, take a positive approach to avoid the same in future.
Read 10 Important Things Your Child Should Learn By Age 10?
9 Proven ways to stop your child from lying
1. Kids know the consequences
Very often children lie because they know that the truth brings punishment and they're afraid of it. Don't get angry at your child for every single little thing. Try to encourage to tell the truth perhaps by making the punishment less severe.
2. Kids don't want to upset parents
Most parents feel sad when they hear any bad news about their children. This is natural and out of love. Kids know about it. One of the reasons the child would rather lie to parents is simply because he or she loves parents and doesn't want to make them upset.
Children should have healthy relationships with parents
3. Children don't lie but fantasise
Childhood is a perfect time to play with imagination. Little kids see the world in a completely different light. They try to see all the magic of this world. Sometimes they tell lie to hide what they have done with their imagination.
4. Kids tell lies because they don't remember
It is natural that sometimes we forget things done or happened in the past. Children also have this problem. They are not a computer to remember everything when you ask something that happened a few days back.
If the child is not telling the truth when you ask about such incidents, it may be possible that the child is not purposefully lying but just remember the situation that way only.
5. Kids think that lying is polite
All parents want their children to be polite and teach them good manners. Being polite and being truthful doesn't always make a good match. Sometimes you are hiding the truth and telling lies when you try to be polite. Sometimes kids think that lying is right and polite.
6. Parents are programming the right answer
Parents often ask kids a question expecting only one single answer, but kids answer will be different. That is not a lie, but he/she knows that way only.
Are you mentally strong parents?
7. Kids are afraid of changing roles
Kids spend a lot of their time playing with imagination and trying out different roles. At times children can be afraid of telling the truth about some bad things because they feel that only villains from fairy tales or movies behave like what they have done.
8. Parents tell lies themselves
Parents are role models for most kids. Education starts at home. Kids watch and listen to the happenings at home and for them what their parents are saying or doing is correct. A kid copies his/her parents in everything.
There are certain Things You Should Never Forbid Children From Doing
4 Steps to take when your child lies – Infographic
Conclusion
If your child is often lying, be careful. Make him understand lying is not a good habit. Find out the exact reason behind this bad habit and try to solve the problems.
Do you have any proven ways for parents out there who want to build a trust system with their children?
If you are a kid yourself what in your opinion can your parents do so you won't feel like you have to hide the truth from them?
Recommended for reading
Do share your reply and thoughts in the comment box below.
"Sharing is Caring!" Share this article on your network. Help others to find proven ways to stop their children from lying.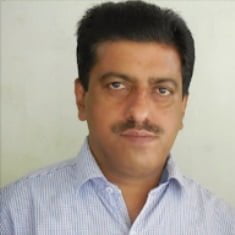 Mathukutty P. V. is the founder of Simply Life Tips. He is a Blogger, Content Writer, Influencer, and YouTuber. He is passionate about learning new skills. He is the Director of PokketCFO.
He lives with the notion of "SIMPLE LIVING, CREATIVE THINKING". He Believes – "Sharing is caring." and "Learning never ends."