(Last Updated On: July 1, 2021)
Do you think being a perfectionist is about things being perfect? It is about thinking things need to be perfect and vigilantly pursuing them.
Who is a perfectionist?
A person who refuses to accept any standard short of perfection is a perfectionist. A Perfectionist is on a continual feeling of having everything right in his life.  A perfectionist is not living life in a place of self-acceptance. The brief satisfaction of "right" is achieved, is temporary.
The problem with perfection
The problem is not that you are aiming for perfection. It is that you don't have a redemptive idea of what perfection demands.
Most perfectionists smile on the outside but inside they feel frustrated, exhausted and unappreciated.
Click To Tweet
The problem with perfection is not that you are impatient. Not that you cannot accept things that are more difficult than what you expect.
The problem with perfectionism is that most people are mediocre by choice, not by birth. Hence you have to deal with a bunch of people every day living under the law of the minimum effort.
You are struggling every day with many problems and handicaps to reach your best. You have to face and accept that most people don't care about the outcomes of their actions.
Also, they are not willing to take responsibilities for their mistakes. But every single person expects you to take full responsibility for all your mistakes and even for those that are not your mistakes.
Retrain your mind to stop being a perfectionist
How to get past the fear of perfectionism?
Everybody in the world is a quote or unquote perfectionist. It's fear. Get past this perfectionism you hold that's keeping you back from being what you want to be before.
Perfectionism is a mask you wear, that is making fear. Maybe it's the fear of judgment or the fear of failure. Maybe the fear of whatever the unknown what happens.
Ask these 3 questions yourself
What is the real fear behind your perfectionism?
Why do you fear that?
What is the worst that could happen?
You think somebody may make fun of you and make a judgement about you.
The first thing you need to get into your head is perfectionism is not real.
Realise it is not a big deal. No matter what you do there can be haters. No matter what you do, someone will judge you.
Don't sit holding yourself back from what you want to do. Get past this fear of judgment. Realise perfectionism is fake and get past perfectionism.
Perfectionism: Is It a Good Or a Bad Thing?
Are you thinking why is perfectionism always perceived so negatively? Is there any bright side to it? Yes, there are.
Perfectionists have great organisation skills. They are constantly developing to meet their own high standards. These can backfire and cause anxiety and depression. That's the flip side of the coin.
Read Convert depression into happiness
Lately, perfectionism has been looked at as a negative trait. But if utilized the right way, it might be empowering.
Perfectionism is a personal trait
Striving for flawlessness
Setting excessively high standards
Overly critical self-evaluations
Concerns regarding others' opinions
The good side of perfectionism
Higher personal standards
Great organization skills
A more polished end result
Love for details
The bad side of perfectionism
Social Anxiety
Obsessiveness
Frustration
Depression
Types of perfectionism
Self-oriented perfectionists – Adhere to strict standards while maintaining strong motivation to reach perfection and avoid failure; engage in strict self-evaluation.
Other-oriented perfectionists – Set unrealistic standards for significant others (e.g., partners, children, co-workers) and strictly evaluate their performance.
Socially prescribed perfectionists – Believe that others hold unrealistic expectations for their behaviour. (and they can't live up to this) experience external pressure to be perfect.
How do you become a 'healthy' Perfectionist?
These actions will gradually change your way of thinking:
Practice being in the present.
Do something badly on purpose.
Put your perfectionism on paper.
Take small risks.
Find out more in the Infographic.

From Visually.
Conclusion
You can find many people have traits of perfectionists and are proud of them. Do you know there are important differences between perfectionists and high achievers? Remember, being a high achiever is far better for your calm mind and happiness.
If you have perfectionistic tendencies, find strategies to get past them and move toward being a non-perfectionistic high achiever.
Are you a perfectionist? What are your thoughts on being a perfectionist?
Share your views in the comment box below.
"Sharing is Caring!" Share this post with others.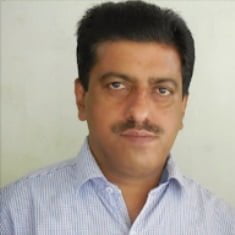 Mathukutty P. V. is the founder of Simply Life Tips. He is a Blogger, Content Writer, Influencer, and YouTuber. He is passionate about learning new skills. He is the Director of PokketCFO.
He lives with the notion of "SIMPLE LIVING, CREATIVE THINKING". He Believes – "Sharing is caring." and "Learning never ends."