(Last Updated On: November 19, 2022)
When you compare your problems with the problems of others, you will realise that your pain is nothing. The moment you light up your inner self, your life will become brighter spreading light for others. We are very much worried about small matters, but we are not looking at the gifts we received from the Almighty. We feel pain about silly matters which we can't achieve. We are worried about our small health problems. But we have no time to think about the pain of others.
Light Up Your Inner Self
Many people have a bad habit of making jokes and insulting disabled persons who are in real pain for their lifetime. They use wrong words and laugh when they see a person with any type of disability. They don't understand how much they are hurting them. Never make jokes about others' problems. If possible, help them, if not, don't make wounds in their mind. Light up your inner self to make your mind free from pain.
Short story
In the cinema theatre, people came to watch a movie. And they're saying we'll show you an award-winning short film. These guys kept waiting. And then the film started. One plain white thing on the screen. One minute, two minutes, white, three minutes, white, four minutes, white. People are thinking of award-winning film? There is just a white colour on the entire screen and the film has started? Eight minutes. Everybody thought "whosoever gave this film the award is senseless. Only white screen! And then in the ninth minute, the camera moved from the white screen. The camera was focused on the ceiling. In the ninth minute, it moved down. It was a hospital. And there was a guy lying, a young guy 20 years old was paralysed for life. He couldn't move his hands, legs, or face for his life. The only thing that was functioning was his eyes.
And then at the end of the tenth minute, they said "he has to watch this for his entire lifetime. You watched this for eight minutes and you're tired. He has to watch this for his lifetime.
Compare your pain with others
When we face small problems, we feel sad and emotional pain starts disturbing our daily life. At that time, we think only about our problems. If we compare our problems with the problems of others around us, we can find that they have much more problems than us.
You may like to read inspirational stories of disabled (differently-abled) persons in wheelchairs and blind. I always think, about how these young talents have a sweet smile always on their face. They hide their pain with their smile and move forward with their talents. They never allow obstacles to break success in their life. That is the spirit, that is the inspiration they spread to others. You can read the below links to know about them and understand their pain.
You are reading this because you can see with your eyes.
Inspirational stories of people who can't see
You are listening to the talk because you can hear with your ears.
You are walking, jumping and running because your legs are strong enough to do so. You are working with your hands because your hands are strong enough to move your hands and work.
Inspirational stories of people who can't walk
Conclusion
Hope that you could understand the importance of lighting up your inner self. The real problem with most of us is that we give more importance to our small problems and forget the big gifts the almighty have given us. We do not feel gratitude for the gifts, but we always complain about small things. When we feel gratitude for whatever we have, our life starts to get better and better. Many important things often become invisible to our eyes. Many times we forget to value things in our life till the point we lose them. Remember, there are many people who wish to have those little things which we have taken for granted.
Do you light up your inner self?
Thank you for the visit. Hope you enjoyed your reading.
Kindly share this article on your network and help others to read it.
Please leave your views about this article in the comments box.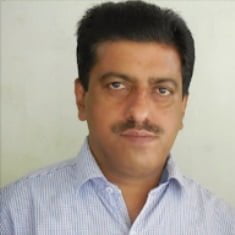 Mathukutty P. V. is the founder of Simply Life Tips. He is a Blogger, Content Writer, Influencer, and YouTuber. He is passionate about learning new skills. He is the Director of PokketCFO.
He lives with the notion of "SIMPLE LIVING, CREATIVE THINKING". He Believes – "Sharing is caring." and "Learning never ends."