(Last Updated On: June 28, 2023)
Kajal Raju's extraordinary accomplishment in cracking the Civil Services Exam on her first attempt is a moment of immense pride and joy. Born without her right arm, her triumph not only fills her family with pride but also resonates as a source of inspiration for the people of Kasaragod and the entire Kerala State, India. In a world where barriers often hinder dreams, there are remarkable individuals who defy limitations and carve their own paths to success. Kajal Raju is one such extraordinary individual whose indomitable spirit and unwavering determination have propelled her towards greatness in the realm of civil services. From overcoming physical challenges to showcasing exceptional academic prowess, Kajal's inspiring journey is a testament to the power of resilience and the pursuit of one's aspirations.
Kajal Raju
Despite being born without her right arm, Kajal Raju, a native of Neeleswaram in Kasaragod, Kerala, defied all odds and achieved an impressive rank of 910th in the 'Person with Disability' category in her civil service exams. Her determination to pursue her dream of becoming a civil servant remained unwavering, regardless of her physical challenge.
Kajal was born with a rare congenital anomaly known as phocomelia syndrome, which resulted in the absence of her right forearm. Her journey of struggles began from the very day she enrolled in school.
Kajal, the daughter of P Raju, a farmer, and Sheeba, is overjoyed by her remarkable achievement of cracking the exam in her very first attempt. Despite the challenges she faced, her determination and hard work paid off, filling her with a sense of pride and happiness.
Kajal Raju's Education
After achieving the highest grade, A1, in all subjects during her Class 10 exams, Kajal Raju enrolled in the Government Higher Secondary School in Hosdurg, Kanhangad, located just 10km away from her home. Her academic excellence continued, as she cleared her Class 12 exams with an outstanding score of 99%. However, her interests and talents extended beyond academics.
Kajal has a stupendous educational qualification. During her time at IIT-Madras, Kajal Raju discovered a supportive community of civil service aspirants. After completing her integrated course in June 2021, she made the decision to relocate to Thiruvananthapuram to focus on preparing for the civil service examination. Determined and driven, Kajal dedicated herself wholeheartedly to her studies. From June 2021 until June 5, 2022, when the civil service examination commenced, she tirelessly worked without taking any breaks. Her unwavering commitment and relentless efforts exemplify her strong work ethic and determination to succeed in her pursuit of a career in civil services.
Mock Interview
Kajal had practised mock interview sessions with former chief secretary K Jayakumar and Dr Shah Faesal, the first Kashmiri to top the exam in 2010, at Hyder Ali Shihab Thangal Academy for Civil Services, Perinthalmanna. 
Kajal Raju's UPSC Interview
During her UPSC interview, Kajal Raju (24) expressed her interest in Theyyam, a traditional ritual art form, in her detailed application form. Interestingly, the interviewers took notice of her response and delved further into the topic. It is uncertain whether the intention behind their questioning was to test her knowledge of Theyyam or if they genuinely sought to learn more about this sacred ritual. However, being a resident of Nileshwar in north Malabar, the land of Theyyam, Kajal was well-versed in the subject and enthusiastically shared her insights during the interview. Her expertise and passion for this cultural art form likely left a lasting impression on the interviewers.
The Power Of Resilience
The absence of her right arm since birth has never been a hindrance in Kajal's pursuit of her dream to become a civil servant. She has overcome any limitations or obstacles with unwavering determination, proving that one's physical condition does not define their capabilities or aspirations. Her remarkable journey serves as an inspiration to others facing similar challenges, showcasing the power of resilience and the ability to overcome any perceived limitations.
Kajal Raju's Passions
Kajal is not only a dedicated student but also a trained classical vocalist. Her passion for music led her to explore her vocal talents. Additionally, she is an aspiring artist, dabbling in painting as a creative outlet. Furthermore, Kajal showcased her musical abilities by being part of a band that entertained audiences with popular movie songs during ganamela, or concerts. Her diverse talents and multifaceted pursuits showcase her well-rounded nature and the depth of her interests and abilities.
Sherin Shahana: From Wheelchair To Civil Service Success
Conclusion
In conclusion, Kajal Raju's remarkable journey serves as a powerful reminder that determination and perseverance can overcome even the most daunting challenges. Her achievement in cracking the Civil Services Exam, despite being born without her right arm, is a testament to her unwavering spirit and relentless pursuit of her dreams. Kajal's success not only brings immense pride and happiness to her family but also inspires countless individuals in Kasaragod and throughout Kerala. Her story stands as a shining example of courage, resilience, and the limitless potential that resides within each of us. As we celebrate Kajal's remarkable accomplishment, let us be motivated to pursue our own aspirations, knowing that with dedication and unwavering belief, we too can overcome any obstacle and achieve greatness.
Recommended for further reading
Does Kajal Raju's inspiring success story inspire you?
Thank you for your visit.
Don't forget to share it.
Leave your comments in the box below
PVM
Featured Photo: Screenshot YouTube
References: Onmanorama The Indian Express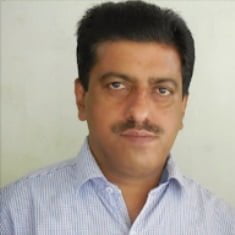 Mathukutty P. V. is the founder of Simply Life Tips. He is a Blogger, Content Writer, Influencer, and YouTuber. He is passionate about learning new skills. He is the Director of PokketCFO.
He lives with the notion of "SIMPLE LIVING, CREATIVE THINKING". He Believes – "Sharing is caring." and "Learning never ends."