(Last Updated On: October 29, 2021)
We know many women are driving two-wheelers, four-wheelers, auto-rickshaw, trains and aeroplanes. This article is about the inspirational story of Delisha Davis, a 24-year-old woman from Thrissur, Kerala state, India, who drives a fuel tanker lorry. Her father Davis who has been a tanker driver for 42 years had no qualms about encouraging his daughter to achieve her passion and goal. Probably Delisha Davis is the only woman who holds a license in Kerala to drive vehicles carrying hazardous goods, with the Fire and Safety license.
Delisha Davis Kerala woman drives a fuel tanker lorry
In India, driving a heavy commercial vehicle is normally treated and seen as a job that only experienced male drivers can do. Internationally things are quite different because there are several women heavy vehicles drivers. Such things are quite rare in India. Delisha Davis, a young and well educated Kerala girl, busted the age-old myth that women are bad drivers. She proved that if there is passion, goal and dedication women can achieve success in any challenging career.
Read How To Set Effective Goals And The Science Of Achieving
The incident that made her story viral
Recently Delisha Davis, a 24-year-old girl from Thrissur Dist. of Kerala state was in the news. She has been driving a tanker truck for 3 years between Kochi and Malappuram. But her inspirational story came in front of the public only after a police officer stopped her vehicle during the Covid-19 pandemic period. The police had received a message from someone in Ponnani that a small girl was seen driving a tanker on the National Highway. The officer stopped the vehicle with a barricade and asked her to get down from the lorry. She got down and showed him the waybills. He told her he wants to see her driving licence to drive a tanker and not the bills. He never knew a woman having a hazardous licence is driving a tanker in Kerala.
When Delisha showed her heavy licence and licence to carry hazardous goods, the officer was quite surprised. It was unbelievable for him that Delisha Davis has a valid licence for the last 3 years to drive a tanker. The officer was surprised to find that a young woman is continuously driving a tanker in the route under his station area, but he had no information about it. He told the public must know about her and she should get proper respect. This happy officer called the media and published her story to the public.
Read How To Set Goals To Become Who You Were Meant To Be
Hazardous license
To get a hazardous license one need to attend the classes. They will teach how to put off the fire in a situation, park the loaded vehicle, what to do if there is a leakage, what all precautions to be taken. Then need to appear for the test and once it is done, they will issue the license.
Delisha Davis – Driving Journey
Delisha is a postgraduate with a Masters degree in commerce. Delisha was passionate about driving from a very early age. After learning to drive two-wheelers and four-wheelers, she wanted something that was a bit more challenging. Her father Davis, a fuel tanker for the past 42 years encouraged his daughter. He was very confident about her daughter and had no worries when she decided to drive heavy vehicles.
At the age of 16, Delisha had learned to drive a tanker but her father wanted her to wait until she got a licence. At the age of 18, she secured her driving licence and at the age of 20 got her heavy vehicle driving licence and licence to carry hazardous goods.
Delisha received an HVD license in 2018 and a certificate in hazardous goods transportation in 2019.  During Covid-19 lockdown in 2020, Delisha braved all odds and started driving the tanker at HPCL Irumpanam Terminal.
Read The Power Of Dreaming Big For Success In Life
Delisha Davis Family 
She belongs to a middle-class family in Kandassankadavu north, Karamukku in Thrissur Dist of Kerala. Delisha Davis is the 2nd of the 3 daughters of Davis and Treesa. Her father Davis has been driving petrol tanker lorries for the last 42 years. From childhood, Delisha Davis had a passion for driving. Her passion and the encouragement from her father helped her to be at the wheels of a petrol tanker at a very young age. Her elder sister Shruthi is a nurse in Dubai and her younger sister Saumya is a lab technician.
From childhood, she was crazy about driving. Seeing her passion for driving, her father took her on his trips. That made her close to driving. This way Delisha grew up seeing her father driving a tanker. One day she asked her father whether she could drive their Ambassador Car. Realising her passion for driving, when Delisha Davis was in Std. VIII, her father himself made her sit on the driving seat for the first time. But at that time, she was below the age to apply for a driving licence. She applied for a driving license on the very next day of completing the age of 18.
Normal steering to power steering
After learning to drive the ambassador car which has normal steering, her father suggested learning to drive a lorry that has power steering. Her father helped her to learn the gear positions and the length of the lorry. Then she started driving the heavy vehicle with her father. After 3 years she got her Heavy Driving licence and also the licence to drive vehicles carrying hazardous goods. After that, she got a pass from Hindustan Petroleum.
In an interview with a channel, Delisha said, "I have not looked at the profit and financial gains, neither I have asked my father about this. Driving is a passion for me and I am crazy about this field."
Why did Delisha Davis select driving as a career?
Today, most people have a concept about white-collar jobs as the best and most suitable career for a successful life. In spite of the required good qualifications for a white-collar job, Delisha Davis has chosen her career as a tanker driver.
Read 5 Mistakes That Could Destroy Your Career
"Most people have a wrong concept that driver and other such vehicle-related jobs are meant for illiterate people. I selected this field persistently to continue my career as a driver even after my postgraduation. It is my passion. I had to face many obstacles. My mother was not allowing me to do this, but later she realised I can do it. This is all because of the wrong concept that girls can't do challenging jobs, only men can do jobs in certain fields," she said in an interview with a TV Channel.
Read How To Choose The Right Career Best For You?
What was the first reaction from family, relatives and others?
Everyone was shouting at her father saying that she is a young girl studying well. Why is he taking her on a lorry? Her father replied to them, "She has a passion for driving. So, even if we discourage her or I don't take her, she will learn driving." Many relatives, neighbours were laughing at his words saying that she is a young girl and she can never achieve this goal. But today he is a proud father of a courageous daughter and those people who were joking about her goal are surprised by her achievement.
Risks of driving a tanker lorry
Delisha points out that it is risky to drive a tanker lorry. "The vehicle has two compartments for petrol and one for diesel and the total capacity is 12,000 litres. The driver has to be careful because of the dangers posed by the fuel. An accident can wipe out an entire region. Speed should be controlled; handling curves is tricky, so too overtaking. A vehicle plying behind can also cause problems, especially if it hits the tanker and there is a spark," she explains.
Gender doesn't come into play here because your driving skill, experience and presence of mind are all that matter. Women drivers are often made fun of when we are on the road. It is better to ignore such people. It is dangerous when one of them overtakes the lorry and brakes suddenly," she avers. Source: The Hindu
Her trips involved transporting fuel from Irumbanam refinery, Kochi to a fuel station in Tirur, Malappuram. The distance from Irumbanam to Malappuram is over 300 km and she does it three times a week.
Read How Positive Attitude And Optimism Affect Your Life
Delisha Davis Petroleum Tanker Driver
Delisha Davis Trailer Driver In Dubai
In an interview with a private TV Channel, Delisha Davis expressed her wish to drive a bus in Canada. After this interview, she got an offer to drive a trailer in Dubai with an agreement for two years driving. If she was driving a tanker with 12000 ltr capacity in Kerala, she got the offer for driving a trailer with 60000 ltr capacity in Dubai. Since she is holding a valid Heavy licence and other related documents, the company will help her to get the licence required in Dubai. She accepted this offer and went to Dubai in the first week of October. Source: Mathrubhumi
Conclusion
Driving a fuel tanker lorry is no joke, taking the risk for a living. This inspirational story of Delisha Davis would motivate women who are scared to drive heavy vehicles. This is true women empowerment, not the society ladies driving their Range Rovers. On her face, you can find her innocence, yet sheer courage and determination.
Inspirational stories of Kerala women
Are you a woman willing to take challenges in life?
Do you have any challenging goals like Delisha Davis?
If you liked this article, kindly share it with your friends, relatives and on social media to help them to read it.
Leave your thoughts and suggestions in the comment box below.
References and credits: YouTube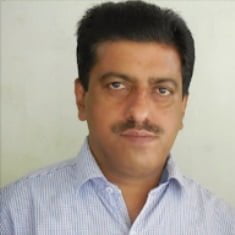 Mathukutty P. V. is the founder of Simply Life Tips. He is a Blogger, Content Writer, Influencer, and YouTuber. He is passionate about learning new skills. He is the Director of PokketCFO.
He lives with the notion of "SIMPLE LIVING, CREATIVE THINKING". He Believes – "Sharing is caring." and "Learning never ends."