(Last Updated On: March 10, 2023)
We all know regular exercise is important for better health, but many people want to exercise at home. Because of many reasons, you may not want to go to a gym for daily exercise. Some people do not feel happy exercising in a gym or in such an environment. Some people struggle with baby care, family responsibilities or other logistics and find it difficult to exercise. Others simply want to create a routine of exercise at home.
If you are a beginner unaccustomed to regular exercise or are unsure how to put together an effective routine of exercise at home, this small article will help you reach your goals. Keep reading to learn simple strategies useful for exercise in a home environment.
How To Exercise At Home?
Simple regular exercise is great for your mind and your body. You can do simple exercises at home and no need to leave the house to do them. If you are not into bodybuilding, it is not necessary to go out to a gym and do heavy exercises. Simple exercises will help to maintain good physical and mental health.
1. Aerobic Exercise At Home
Aerobic exercise is any activity that increases breathing and heart rate while exercising and requires more oxygen than normal activities. If these two conditions are met, then the body uses more calories (energy) to perform the activity. An example of aerobic exercise would be running, swimming, walking, etc. When performing an aerobic activity, you should have a goal in mind and focus on maintaining proper technique. You should never push yourself to the point where you feel pain, become fatigued, or overheat. Let's find out what are the benefits of walking every day.
2. Cardio Exercise At Home
Cardio exercises are those that increase blood flow throughout the body. These types of exercises help reduce the risk of cardiovascular disease by lowering blood pressure, cholesterol levels, and triglycerides. Activities that fall under this category include jogging, biking, dancing, etc. In order to reap the full benefit of cardio exercises, they need to be performed consistently and at a moderate level.
3. Strength Training Exercise At Home
Strength training involves using a 20kg adjustable dumbbell set, weightlifting machines, free weights, or bodyweight exercises to develop muscle mass and endurance. There are many different ways to do these kinds of exercises. You may use a machine or use your own body weight. The best way to get started is to start small and work your way up. Remember to always warm up before doing any intense workout and cool down after completing your routine.
4. Stretching Exercise At Home
Stretching helps improve flexibility and prevent injury. It is important to stretch before working out and after each session. In addition, stretching exercises can be done daily to maintain good health and avoid injuries.
5. Yoga
Yoga is a great form of exercise that combines physical movement, postural awareness, breath control, meditation, and relaxation. It's recommended to practice yoga once a day. Try to choose poses that challenge your balance, core, and upper body strength.
Yoga Benefits Beyond The Mat
The goal during yoga practice is to challenge yourself physically, but not to feel overwhelmed. At this "edge," the focus is on your breath while your mind is accepting and calm.
Better body image:– Yoga develops inner awareness. It focuses your attention on your body's abilities at the present moment. It helps develop breath and strength of mind and body. It's not about physical appearance.
Mindfulness: – Practicing yoga has been shown to increase mindfulness not just in class, but in other areas of a person's life.
Weight loss: – Researchers found that people who practised yoga for at least 30 minutes once a week for at least four years, gained less weight during middle adulthood.
Enhancing fitness: Yoga is known for its ability to soothe tension and anxiety in the mind and body. But it can also have an impact on a person's exercise capacity.
Cardiovascular benefits: Several small studies have found yoga to have a positive effect on cardiovascular risk factors: It helped lower blood pressure in people who have hypertension. Source: Harvard Health Publishing
A perfect morning routine will energise your mind and body. You don't need to do hard exercises, but simple methods will boost your mental and physical health. Simple morning routines like meditation, exercises, and morning walks will help to get maximum energy into the mind and body needed for hard work in the daytime.
Top 10 Morning Exercises To Do At Home
Don't let mornings put you in a bad mood! Make your day so much better by launching yourself off your bed and getting into a full-on workout mode. Perform this early morning workout challenge and improve your health and mood for the day. Prep your body to burn calories for the entire day by exercising daily with this 20-min workout and prepare to lose weight in 3-4 weeks! Don't start your day already dreading it before it even started! Get yourself off that bed and do this morning workout challenge! Let's begin!
Conclusion
Regular exercise at home expands your options for increasing your daily physical activity. Exercising in a home environment is more convenient and easier than going out to a gym. This will also save you precious time from your busy schedule. Simple exercises at home are good for maintaining your body weight and also to keep your body and mind active. But if you want more, you need to consider investing in versatile equipment. If you are not into structured workouts and muscle building, you can do simple exercises at home. Before starting heavy exercises, you must consult an expert and follow his advice and better to do it under his supervision only.
Do you regularly exercise at home?
Thank you for your visit.
Don't forget to share it.
Leave your thoughts in the comment box below.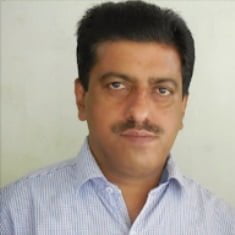 Mathukutty P. V. is the founder of Simply Life Tips. He is a Blogger, Content Writer, Influencer, and YouTuber. He is passionate about learning new skills. He is the Director of PokketCFO.
He lives with the notion of "SIMPLE LIVING, CREATIVE THINKING". He Believes – "Sharing is caring." and "Learning never ends."