(Last Updated On: June 19, 2022)
Be happy with what you have. It may be difficult for you to be happy because the human mind always wants more and more. Do you know your appearance matters nothing as long you are helpful to others? Your look is not important but what you do for others is important for happiness and success in your life.
Be Happy With What You Have
The moral story of the three pots gives you the lesson to be happy with what you have.
All your friends may not be rich. You may not have enough money to buy costly dresses and other items for your kids. You may not have a four-wheeler like your friends. You may be struggling a lot to feed your children, educate them in good schools and give them decent dress and uniforms. Do you feel sad about your low income?
Your look is not important for your success
It is natural for you to feel sad and feel ashamed when you are unable to match your look with your rich friends. You should make your mind understand that look is not important for a successful life. If you read the stories of successful people, you will find that many of them were born in poor family backgrounds. Their parents had very normal incomes. They struggled a lot to manage the expenses for educating. But they never bothered about their look or lifestyle.
Late Dr. A P J Abdul Kalam was the son of a boat owner from a small village. Do you know how Abdul Kalam, the great scientist, became the 11th president of India and one of India's top motivational characters?
Do you know how Sundar Pichai, a small-town boy, from Chennai, became India's Pride, by heading Google, the biggest company in the world?
Proverb
I remember an old proverb in Malayalam, "Akkare nikkumbol, ikkare pacha ikkare nilkkumbol akkare pacha" which means "The hills look green that are far away". But when you reach there, you will find the hills are the same as the other side hill. Many of us have this type of wrong thoughts. We are not satisfied with whatever we have.
Be happy with what you have
If you are able to feel happiness in whatever you have, whatever your parents can afford, then you will be always happy. Never compare your life with others lifestyles or statuses. Be happy with whatever you have and whatever your parents can afford with their small income. You have to face many challenges and failures in life. At that time don't feed your mind with sadness. Always have faith in your skills and talents. Never stop believing in yourself even for a second.
Conclusion
Always be happy with what you have. Think more about the blessings you have received. Don't feed your mind with negative thoughts about what you could not achieve. Facing challenges and failures are part of life. You need a positive attitude to overcome obstacles and turn failure into success.
How do you keep a happy mind?
Kindly share this article with your friends, relatives and on social media to help them to read it.
Leave your thoughts and suggestions in the comment box below.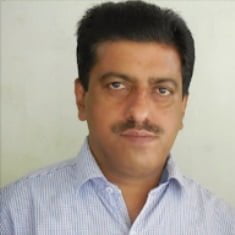 Mathukutty P. V. is the founder of Simply Life Tips. He is a Blogger, Content Writer, Influencer, and YouTuber. He is passionate about learning new skills. He is the Director of PokketCFO.
He lives with the notion of "SIMPLE LIVING, CREATIVE THINKING". He Believes – "Sharing is caring." and "Learning never ends."