(Last Updated On: June 28, 2023)
Despite losing her right arm in a tragic bus accident at a young age, Akhila B.S. has emerged as an inspirational success story. Her remarkable journey took her to the impressive feat of securing the 760th rank in the highly competitive Civil Services examination of 2022. This achievement stands as a testament to Akhila's unwavering determination and resilience in the face of adversity. Her story is a shining example of how one can overcome challenges and achieve greatness, inspiring others to pursue their dreams regardless of the obstacles they may encounter. Akhila B S's journey to success is a testament to the power of perseverance and the indomitable human spirit. In this blog post, we delve into her remarkable story, exploring the hurdles she overcame, the lessons she learned, and the impact she continues to make. Her inspiring tale serves as a reminder that with the right mindset and unwavering determination, anything is possible.
Inspiring Success Story Of Akhila B S
In a world where setbacks and challenges often hinder our path to success, there are individuals who rise above adversity and defy the odds. One such inspiring story is that of Akhila B S., who, despite losing her right arm in a tragic bus accident at a tender age, refused to let her disability become a barrier to her dreams. Today, she stands as a shining example of resilience, determination, and unwavering spirit.
Akhila B.S., who secured the 760th rank in the Civil Services examination of 2022, did not let her disability become a hurdle in her success. The 28-year-old, who lost her right arm in a bus accident at the age of five, emerged with flying colours in one of the country's most prestigious examinations.
Akhila, the second daughter of K. Buhari, a former Headmaster at Cotton Hill Government Girls High School, and Sajina Beevi, met with an accident on September 11, 2000, resulting in the loss of her right arm below the shoulder. Despite undergoing examination by a medical team from Germany in India, her arm could not be fully restored as she had lost the tip of her shoulder.
Undeterred by her circumstances, Akhila adapted to her day-to-day tasks using her left arm and learned to write with her left hand. She excelled in her board exams and went on to pursue an Integrated MA at IIT Madras before starting her preparations for the Civil Services. This marked Akhila's third attempt, having cleared the preliminary stage in her previous two attempts.
Inspiration from teacher
Reflecting on her journey, Akhila expressed gratitude towards one of her teachers who played a pivotal role in introducing her to the profession of a Collector. Inspired by this guidance, she embarked on her preparation for the UPSC examination with unwavering determination. Sharing her joy and gratitude, Akhila expressed a sense of reassurance about her preparation, having started right after her graduation in 2019. While she successfully cleared the preliminary stage in all three attempts, she encountered the disappointment of not making it to the final list on the previous two occasions. However, her resolute spirit remains undeterred, as she continues to persevere towards her goal with utmost dedication and resilience.
Read How The Power Of Gratitude Can Change Your Life?
She received coaching at an institute in Bengaluru for a year and later sought assistance from a Thiruvananthapuram-based institute. Reflecting on the challenges she faced during her preparations, Akhila acknowledged the ups and downs along with the tremendous hard work required.
Lost One Arm At Age Of Five, Kerala Girl Akhila B S Cracks UPSC CSE
Akhila B S Faced Significant Challenges
Akhila explained that the civil services examination posed significant challenges, primarily due to its long duration and demanding workload. Sitting straight for extended periods proved to be particularly difficult, making it a Herculean task to maintain focus during the three to four hours of continuous examination. Despite these obstacles, Akhila's determination and perseverance remained unwavering, underscoring her unwavering commitment to achieving her goals.
Using her left hand and enduring prolonged periods of sitting proved to be tough challenges for Akhila during her preparations and the examination itself. Writing continuously for three days during the main exams was particularly challenging. However, her goal was to achieve the position of an IAS officer, and she remained committed to preparing for upcoming exams with maximum effort until she achieved her desired position.
Sherin Shahana: From Wheelchair To Civil Service Success
Expressing profound gratitude to her parents and family for their unwavering support, Akhila considered herself fortunate to have received immense support not only from her immediate family but also from her extended relatives.
Kajal Raju Born Without Right Arm Passed Civil Services Exam
Gahana Navya James Of Kerala Bagged AIR 6th In UPSC 2022
Conclusion
As we conclude Akhila's incredible journey, we are left in awe of her unwavering spirit and remarkable achievements. Her story is a testament to the fact that no obstacle is insurmountable if we have the courage to face it head-on. Akhila's determination, resilience, and relentless pursuit of her dreams serve as an inspiration to all of us.
Through her triumphs and challenges, Akhila reminds us that success is not defined by our circumstances but by our ability to rise above them. She is a beacon of hope, showing us that disability does not determine our capabilities and that with perseverance and unwavering faith in ourselves, we can achieve greatness.
Akhila's journey is a powerful reminder to embrace the challenges that come our way, for they can be transformative stepping stones towards our goals. Her story resonates with us, urging us to break free from the limitations we impose on ourselves and strive for greatness.
Let us carry the spirit of Akhila's story with us as we navigate our own paths, knowing that with determination, resilience, and unwavering belief in ourselves, we can overcome any obstacle that stands in our way. May her remarkable journey continue to inspire and empower us to reach for the stars and make our dreams a reality.
Recommended for further reading
Does Akhila B S's inspiring success story inspire you?
Thank you for your visit.
Don't forget to share it.
Leave your comments in the box below
PVM
Featured Image Credits: Mathrubhumi Video
References: ANI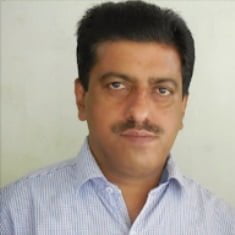 Mathukutty P. V. is the founder of Simply Life Tips. He is a Blogger, Content Writer, Influencer, and YouTuber. He is passionate about learning new skills. He is the Director of PokketCFO.
He lives with the notion of "SIMPLE LIVING, CREATIVE THINKING". He Believes – "Sharing is caring." and "Learning never ends."